Racking Up Plays: "We All Go Back to Where We Belong" by R.E.M.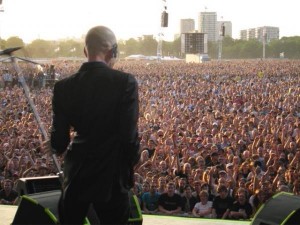 These are the posts where I gush about some song that I've got a huge crush on at the moment, and you put up with it and listen because you're a good friend.
"We All Go Back to Where We Belong," R.E.M.
Every alternative music fan of my generation seems to have an R.E.M. story, about how their appreciation or understanding of music shifted when they discovered the Athens, Georgia, band. I was an incoming eighth grader cleaning my room when I stumbled upon an Ann Arbor alternative-rock station playing "It's the End of the World as We Know It (And I Feel Fine)." The song was already a couple of years old at that point, but for me—a slightly oblivious kid who had listened to little other than my Weird Al and Billy Joel cassettes throughout middle school—it was a revelation.
The next day I told my mom that I'd heard this cool band called R.E.M. on the radio. She fished through one of her bags and pulled out an R.E.M. greatest hits collection.
"I've been telling you about R.E.M. for years, hon," she said.
(My mother was a guitar teacher, and her college-rock-leaning students had been asking her to show them how to play R.E.M. songs ever since Document.)
Though Stipe & Co. never quite firmly established themselves in the top-tier of my favorite bands, after that I always bought each new R.E.M. release. I listened to Automatic for the People whenever my teenage heart got broken. I saw the band live while it toured in support of Up. I tried like hell to convince myself that Around the Sun was a good album. I rejoiced with the rest of the fan base when the Accelerate turned out to be a robust return to form. And I was just a little heartbroken when the band abruptly announced its breakup on Sept. 21.
A sunny, AM-pop throwback, "We All Go Back to Where We Belong" was recorded after the band made up its mind to call it quits—one of three new tracks for the compilation album Part Lies, Part Heart, Part Truth, Part Garbage 1982–2011—and it is impossible to describe the song as anything but a fitting, bittersweet coda to an impressive 31-year history as America's preeminent alternative rock band. Seemingly describing lovers lying by the ocean (although, as with most of Michael Stipe's lyrics, it's a little abstract), the tune concludes with Stipe and Mike Mills harmonizing as they repeat, "Is this really what you want?"—raising the question on every R.E.M. fan's mind. The only answer is a Bachrach-worthy horn arrangement that replies: "Yes. And it's OK. It's time to move on."