The Annotated Decemberists No. 7: "Leslie Anne Levine"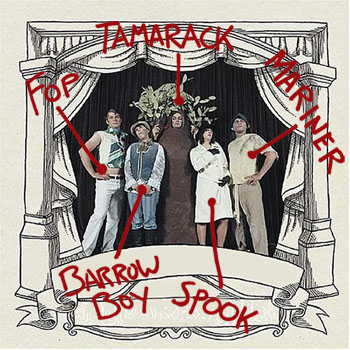 Perhaps no band's lyrics better lend themselves to pseudo-academic analysis than those of The Decemberists. The Annotated Decemberists is an attempt to puzzle through the Portland, Oregon, group's entire catalog song by song—examining all the obscure vocabulary, historical references and poetic subtext—or go crazy trying.
We begin our foray into The Decemberists' first album proper with a ghoooost story!
Colin Meloy's fondness for the macabre was only hinted at on the 5 Songs EP (with "Oceanside" perhaps containing a rather subtle Edgar Allen Poe reference). Here it is unleashed in full, with a dash of dark whimsey that surely owes a debt to Edward Gorey. The song tells of the specter of a premature baby. Fifteen years after her death, she shows enough maturity to narrate her own sad tale, yet she remains an infant, clinging to her (dead) mother and shaking a rattle … made of bone! Spoooooky, right? Don't worry. A shuffling drumbeat and some affable accordion solos keep things from getting too frightening.
"Leslie Anne Levine"
from Castaways and Cutouts, 2002
My name is Leslie Anne Levine[1]
My mother birthed me down a dry ravine[2]
My mother birthed me far too soon
Born at nine and dead at noon
Fifteen years gone now
I still wander this parapet[3]
And shake my rattle bone
Fifteen years gone now
I still cling to the petticoats[4]
Of the girl who died with me[5]
On the roofs above the streets
The only love I've known's a chimney sweep
Lost and lodged[6] inside a flue[7]
Back in 1842[8]
Fifteen years gone now
I still wail from these catacombs[9]
And curse my mother's name[10]
Fifteen years gone now
Still a wastrel[11] mesallied[12]
Has brought this fate on me[13]
My name is Leslie Anne Levine
I've got no one left to mourn for me
My body lies inside its grave
In a ditch not far away
Fifteen years gone now
I still wander this parapet
And shake my rattle bone
Fifteen years gone now
I still cling to the petticoats
Of the girl who died with me
Exegesis Manifest
(↑ returns to text)