"Albums of the … Teens, I guess?": All good things must come to an end, and also this decade must
We have arrived at the end, with a whole day to spare before the final day of the 2010s. Not that you care, but choosing albums from the current year to include in a decade-long retrospective is the hardest part of doing a decade-long retrospective. I've had almost 10 whole years to let the albums that came out in 2010 marinate in my consciousness, to figure out which ones are fleeting flings and which are long-term love affairs. But these albums, I've only been listening to them for a few short months. Will I still be wild about them 10 years from now? Were there any important works that I should have included and didn't? Be sure to check out my retrospective in December 2029 to find out.
In the meantime, before we get started finishing up, here are 10 fantastic songs by artists not otherwise represented by any of the albums profiled:
And now, the final five albums, also known as my Top 5 albums of this year.
Released: March 22, 2019
I know Bird was being a bit droll with this album title, but by golly if his 12th studio album isn't his finest work in a decade, at least. Since 2012's Break It Yourself, the singer/songwriter/violinist has eschewed the studio layering that marked his breakthrough albums in favor of capturing a more live sound with a band. That trend continues. The way the drums and upright bass are mic'd on this release makes everything feel immediate—which is appropriate since the lyrics are a very of-the-moment commentary on our fractured political landscape. For folks who … find existential despair a bit easier to palate when served with jazzy folk-pop and virtuoso whistling. Moment that gets me every time: "We will be playing bridge in the psych ward / with Arthur, Gene, and Lou / we will be playing bridge in the psych ward / with Barbara, Jean, and Sue." I'm actually not to sure if I got all the names right there, but it sounds inviting nevertheless. Deal me in. If you listen to just one song: "Bloodless," which quite plainly frets that the 2019 in the United States feels a bit too much like the lead up to the Spanish Civil War (complete with Auden and Yeats quotes).
Cuz I Love You, Lizzo
Released: April 19, 2019
I'm sure there are human beings out there who genuinely think the Minneapolis rapper/singer/flautist's major-label debut is not inspiring and impressive and fun as hell, but these people are not to be trusted. They should be outed and shunned. Yes, this album is bombastic. Yes, it's silly. But if you put on "Juice" and someone isn't dancing and singing along by the second chorus, there is something wrong with that person. I also want to take a moment of appreciation for Lizzo's singing, because it's easy to let her lyrics, flow and personality overshadow some truly stunning vocal range and energy. For folks who … need to hear the message that it's OK to be yourself and love yourself for it. Moment that gets me every time: "All means necessary / my ass is not an accessorary (what?) / nigga, I said it, accessorary (what?) / twerk skills up on legendary." If you listen to just one song: If haven't heard "Juice" yet, folks, a) where have you been? and b) you gotta hear "Juice."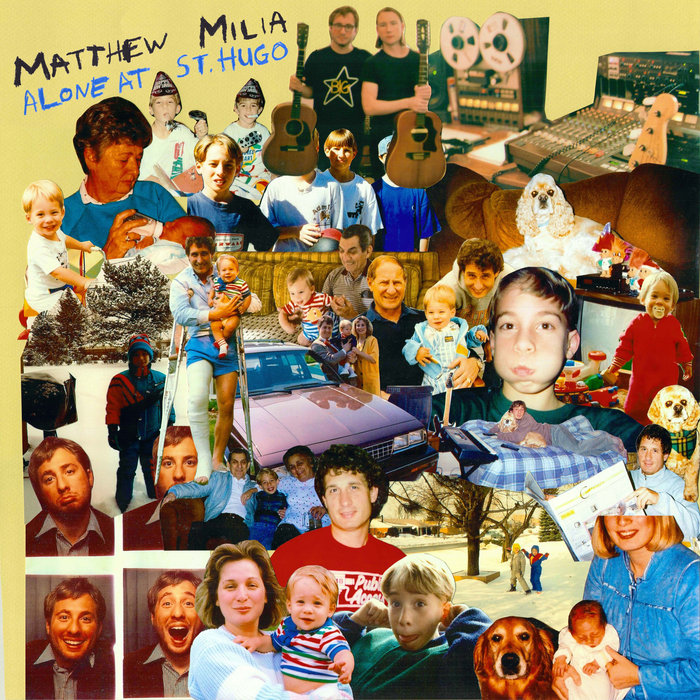 Released: May 3, 2019
I haven't been able to keep tabs on Michigan's indie music scene this decade quite like I did last decade, when I lived there and sorta got paid to do so. I'm glad that this one got onto my diminished radar, though. Milia, who attained some measure of success outside southeastern Michigan with his band Frontier Ruckus, employs a lot of the same playful rhymes, but this is clearly a very personal project for him. The title refers to his Catholic high school in Bloomfield Hills, and all the local references—Michigan Avenue, Sylvan Lake, the Silverdome—are like catnip to suburban Michigan expats like me. For folks who … would enjoy a good argument over a Bell's Oberon Ale about whether this record displays more influence from Big Star and Gram Parsons or The Hollies and Crosby, Stills, Nash and Young. (Even though it's clearly the latter.) Moment that gets me every time: "Do you think it's something you still can make matter? I wake up every Sunday in the pancake batter / with all my soccer trophies just posed like mannequins." If you listen to just one song: "Abruptly Old and Caffeinated."
Released: May 3, 2019
It took me and long, long time to come around on Vampire Weekend. It was the sort of music that should have been right in the very center of my wheelhouse. Song about Oxford commas? Yes, please. Entitled college kids inspired by Paul Simon? I'm listening.
And yet I just couldn't quite get excited about Ezra Koenig and his merry band of musical journeymen—until this album came along. Koenig has said that Father of the Bride was influenced by country songwriters like Kacey Musgraves and their talent for characters and scene setting, but I don't quite hear it. Regardless, everything here is really well done … with the exception of that cover artwork. Seriously. Why? For folks who … have ever suspected they might have a hankering for 18 tracks of preppy indie-pop with a vague, overarching concept about a troubled marriage, but were afraid to admit it to themselves. Moment that gets me every time: "Oh wicked world / just think what could have been / Jerusalem, New York, Berlin." If you listen to just one song: "This Life" is the one that finally did it for me.
Released: Aug. 16, 2019
It's such a pleasure to wrap up this project with an old friend like The Hold Steady. The Brooklyn band that left its heart in Minneapolis put out two other albums this decade, plus frontman Craig Finn put out another four solo albums, and it's not that they were weak per se. But Thrashing Thru the Passion felt like a return to form, perhaps due to the return of keyboardist Franz Nicolay after a more-than-10-year hiatus. It also helped that half the album was released gradually as singles over a nearly two-year period, so half of it was familiar to fans, and the other half was just as great. Finn's knack for spinning tales of messed-up kids is strong as ever, and the rest of the band sounds carefree and dialed in. For folks who … are wondering what to get their cool aunt, who is a huge Springsteen fan but open to new stuff, for Christmas. (Yeah, I literally did this.) Moment that gets me every time: "The pastor is reminiscing about the holiday pageant / and it's coming off more creepy than nostalgic." If you listen to just one song: "Blackout Sam" introduces another classic Finn character and gives him a slow-burn jam full of sax solos and dual harmonized guitars.
Denouement
OK, so that's it. It sure took more time to write than I intended, which means I probably wrote more than anyone will ever read. Thanks for getting through however much you were willing to read.
I feel like I should apologize one more time for the overwhelming amount of nerdy, folky, melodic indie rock and the distinct lack of Beyonce and Frank Ocean and Kendrick Lamar compared to most best-of-the-decade lists. But if I don't speak for the aging hipster white-guy dads, perhaps no one will, and wouldn't that be a tragedy!!
For your listening convenience, here is a Spotify playlist of all the "If you listen to just one song" songs featured in this project.
2010 | 2011 | 2012 | 2013 | 2014 | 2015 | 2016 | 2017 |2018 |2019
The complete list
Of the Blue Colour of the Sky, OK Go, (Jan 12, 2010)
A Badly Broken Code, Dessa, (Jan 19, 2010)
Plastic Beach, Gorillaz, (Mar 10, 2010)
Together, The New Pornographers, (May 4, 2010)
The ArchAndroid, Janelle Monae, (May 18, 2010)
The King Is Dead, The Decemberists, (Jan 14, 2011)
All Eternals Deck, The Mountain Goats, (Mar 29, 2011)
It's A Corporate World, Dale Earnhardt Jr. Jr., (Jun 7, 2011)
Join Us, They Might Be Giants, (Jul 19, 2011)
The Whole Love, Wilco, (Sep 27, 2011)
Animal Joy, Shearwater, (Feb 28, 2012)
Blunderbuss, Jack White, (Apr 20, 2012)
The Sound Of The Life Of The Mind, Ben Folds Five, (Sep 18, 2012)
Shields, Grizzly Bear, (Sep 18, 2012)
Sorry To Bother You, The Coup, (Oct 30, 2012)
Love, Cloud Cult, (Mar 5, 2013)
The Next Day, David Bowie, (Mar 8, 2013)
Tales from Terra Firma, Stornoway, (Mar 19, 2013)
American Kid, Patty Griffin, (May 7, 2013)
…Like Clockwork, Queens of the Stone Age, (Jun 3, 2013)
Somewhere Else, Lydia Loveless, (Feb 18, 2014)
Morning Phase, Beck, (Feb 21, 2014)
A Dotted Line, Nickel Creek, (Apr 1, 2014)
Metamodern Sounds in Country Music, Sturgill Simpson, (May 13, 2014)
Everything Will Be Alright in the End, Weezer, (Oct 7, 2014)
No Cities to Love, Sleater-Kinney, (Jan 20, 2015)
Natalie Prass, Natalie Prass, (Jan 27, 2015)
Something More Than Free, Jason Isbell, (Jul 17, 2015)
Every Open Eye, Chvrches, (Sep 25, 2015)
Sermon on the Rocks, Josh Ritter, (Oct 16, 2015)
Cardinal, Pinegrove, (Feb 12, 2016)
Upland Stories, Robbie Fulks, (Apr 1, 2016)
A Moon Shaped Pool, Radiohead, (May 8, 2016)
Teens of Denial, Car Seat Headrest, (May 20, 2016)
We got it from Here … Thank You 4 Your Service, A Tribe Called Quest, (Nov 11, 2016)
Amber Lantern, Timothy Monger, (Feb 10, 2017)
Hot Thoughts, Spoon, (Mar 17, 2017)
Brand New Day, The Mavericks, (Mar 31, 2017)
Guppy, Charly Bliss, (Apr 13, 2017)
Not Dark Yet, Shelby Lynne and Allison Moorer, (Aug 18, 2017)
Freedom's Goblin, Ty Segall, (Jan 26, 2018)
Every Little Thought, Hurry, (Feb 23, 2018)
The Louder I Call, the Faster It Runs, Wye Oak, (Apr 6, 2018)
God's Favorite Customer, Father John Misty, (Jun 1, 2018)
Be the Cowboy, Mitski, (Aug 17, 2018)
My Finest Work Yet, Andrew Bird, (Mar 22, 2019)
Cuz I Love You, Lizzo, (Apr 19, 2019)
Alone at St. Hugo, Matthew Milia, (May 3, 2019)
Father of the Bride, Vampire Weekend, (May 3, 2019)
Thrashing Thru the Passion, The Hold Steady, (Aug 16, 2019)