"Albums of the … Teens, I guess?": Country, folk 'n' Weezer in 2014

We all remember how 2014 was a stand-out year for boundary-pushing country artists and finely crafted, acoustic pop-folk, yeah? OK, I didn't realize it until I stared working on this post, but there you have it. Four out of five albums below are firmly in the country/folk wheelhouse. And then you've got one case of a mega-popular band making a pretty blatant back-to-basics rawk album and succeeding against all odds. Take us back!
Released: Feb. 18, 2014
On her third album, Ohio's finest alt-country chanteuse is interested in only the most dysfunctional of relationships, whether it's the narrator of "Really Wanna See You" who can't stop getting high and calling an ex, the narrator of "Chris Isaak" who keeps getting calls from a drunken ex, Richard Burton and Elizabeth Taylor (the inspiration for "Hurt So Bad"), or 19th century French poets Arthur Rimbaud and Paul Verlaine. Everything is so perfectly boozy and heartbroken and hopeless and hopeful, and it shines through on every guitar solo and vocal inflection. For folks who … are disappointed by the noticeable dearth of songs in the pop music cannon about a woman demanding sexual gratification of an oral nature. Moment that gets me every time: There's no shortage of great lyrics on this album, but nothing amuses me so much as the lip-smacking "mmmmmp-ah!" at the end of "Wine Lips." If you listen to just one song: "Verlaine Shot Rimbaud."
Morning Phase, Beck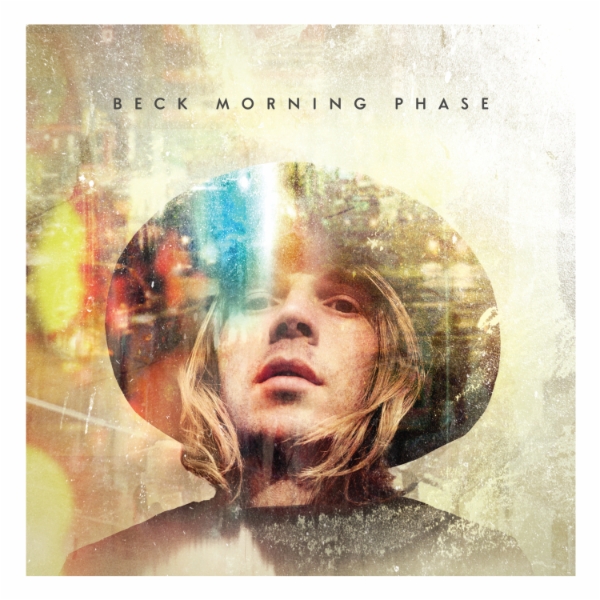 Released: Feb. 21, 2014
Was there any moment in this decade that made me feel older than when Beck won Album of the Year and a bunch of Beyonce fans flooded social media to say, "Who the FUCK is 'Beck'?" No, no there was not. Well, it's their loss that they didn't enjoy this lovely collection of gorgeous acoustic balladry, and furthermore that they didn't even realize that it serves as the hopeful dawn to the long, bleak night of Mr. Beck's other gorgeous acoustic masterpiece, Sea Change. OK, Millennial. For folks who … loved Sea Change and then got less angsty over the next 12 years. Moment that gets me every time: "Can we start it all over again this morning / I lost all my defenses this morning / won't you show me the way it used to be." If you listen to just one song: The closing track, "Waking Light."
Released: April 1, 2014
This is undeniably the most welcome and well-executed reunion album built on a foundation of excellent songwriting and pristine three-part harmonies since Ben Fold Five two posts ago. The acoustic trio had been on break since 2007, and while we all enjoyed their 14,000 other projects during that time, I sure did miss Nickel Creek's delicately balanced appreciation of both angsty pop and virtuoustic bluegrass jams. For folks who … wore out their copy of Why Should the Fire Die. Moment that gets me every time: "Well I've never been so sure / and I never led no one astray / 'cept in the fall of '94 / but hallelujah! / the 21st of May." This is such a subtle dig that the casual listener will think Sean Watkins wrote a straight-up gospel tune rather than a satirical swipe at apocalyptic evangelists. If you listen to just one song: Lots of good options, but I'll recommend Thile's rip-snortin' portrait of a bitter ex, "You Don't Know What's Going On."
Metamodern Sounds in Country Music, Sturgill Simpson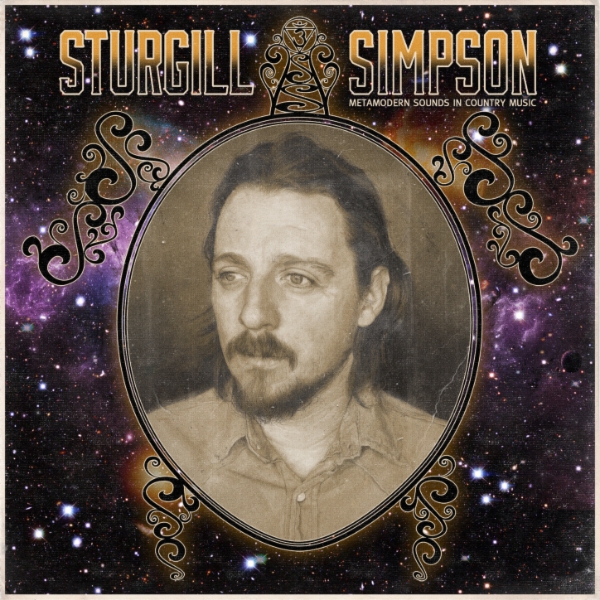 Released: May 13, 2014
Gram Parsons dubbed his brand of country-rock "Cosmic American Music," but he never wrote anything so cosmic as the lines, "There's a gateway in our mind that leads somewhere out there, far beyond this plane, where reptile aliens made of light cut you open and pull out all your pain." [white-guy-blinking.gif] It takes some guts for a country musician to write a song about how friendship and/or drugs offer better paths to enlightenment than religion, but if Simpson is known for two things, one is his lack of fucks given. The other thing, of course, is that wonderful Waylon-esque voice of his. Both are showcased nowhere better than on a cover that finds the country heart beating within a forgotten synthpop one-hit-wonder. For folks who … are well-versed enough in both post-postmodernist philosophy and the history of country crossovers to "get" the album title. Moment that gets me every time: "It ain't all flowers, sometimes you gotta feel the thorns / and when you play with the Devil, you know you gonna get the horns." If you listen to just one song: You kinda gotta start with "Turtles All the Way Down," even if none of the exceptionally well-executed outlaw country that follows approaches its level of cosmic weirdness.
Everything Will Be Alright in the End, Weezer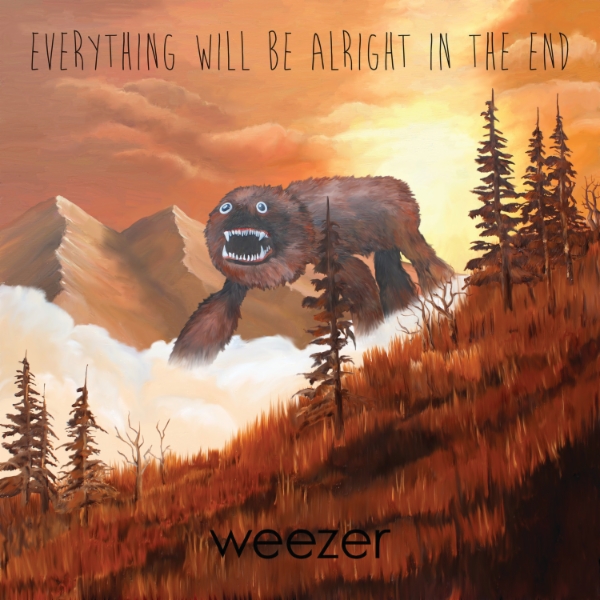 Released: October 7, 2014
OK, raise your hand if you had all but given up on Weezer. Heck, I think Rivers Cuomo had given up on the band being anything other than an exercise in … whatever the heck Hurley was. But then he went on a meditation retreat (of course) and hit upon the idea of trying to record a really solid, guitar-driven rock album, complete with Rick Ocasek back at the controls. Does it have some goofy parts that don't quite work? Oh yes. Was it calculated fan service rather than any sort of sincere artistic expression? Probably. Does it build to a perfect finale with a rousing sing-along of the album title, only to inexplicably keep going with a forgettable three-song cycle that could easily have been released as a separate EP? You bet your sweet ass it does. But damned if the combination of distortion, melodies and withering self-reflection doesn't hit you right in the Pinkerton sweet spot. For folks who … never stopped rockin' out like it's '94. Moment that gets me every time: "Forgive your foolish father / He did the best that he could do / you are his daughter / and he'd do anything for you." Maybe you gotta be a dad, I dunno. If you listen to just one song: "Eulogy for a Rock Band" is a perfect piece of self-referential, self-deprecating power-pop.
2010 | 2011 | 2012 | 2013 | 2014 | 2015 | 2016 | 2017 |2018 |2019
The list thus far
Of the Blue Colour of the Sky, OK Go, (Jan 12, 2010)
A Badly Broken Code, Dessa, (Jan 19, 2010)
Plastic Beach, Gorillaz, (Mar 10, 2010)
Together, The New Pornographers, (May 4, 2010)
The ArchAndroid, Janelle Monae, (May 18, 2010)
The King Is Dead, The Decemberists, (Jan 14, 2011)
All Eternals Deck, The Mountain Goats, (Mar 29, 2011)
It's A Corporate World, Dale Earnhardt Jr. Jr., (Jun 7, 2011)
Join Us, They Might Be Giants, (Jul 19, 2011)
The Whole Love, Wilco, (Sep 27, 2011)
Animal Joy, Shearwater, (Feb 28, 2012)
Blunderbuss, Jack White, (Apr 20, 2012)
The Sound Of The Life Of The Mind, Ben Folds Five, (Sep 18, 2012)
Shields, Grizzly Bear, (Sep 18, 2012)
Sorry To Bother You, The Coup, (Oct 30, 2012)
Love, Cloud Cult, (Mar 5, 2013)
The Next Day, David Bowie, (Mar 8, 2013)
Tales from Terra Firma, Stornoway, (Mar 19, 2013)
American Kid, Patty Griffin, (May 7, 2013)
…Like Clockwork, Queens of the Stone Age, (Jun 3, 2013)
Somewhere Else, Lydia Loveless, (Feb 18, 2014)
Morning Phase, Beck, (Feb 21, 2014)
A Dotted Line, Nickel Creek, (Apr 1, 2014)
Metamodern Sounds in Country Music, Sturgill Simpson, (May 13, 2014)
Everything Will Be Alright in the End, Weezer, (Oct 7, 2014)