Rankstravaganza: My 30 Favorite Songs of 2022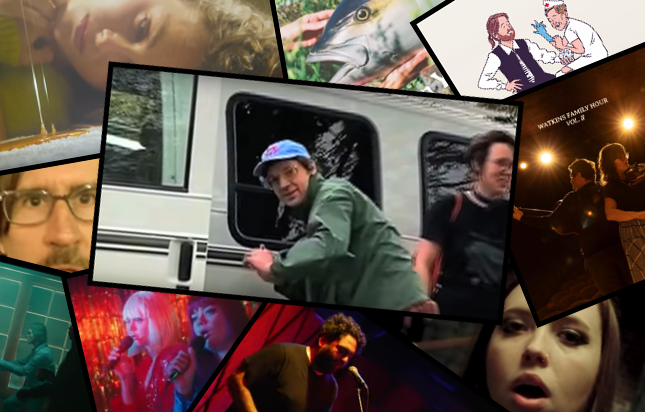 Never before has my annual insistence on ranking songs felt more like an exercise in Dad Rock and '90s Nostalgia. It's not just that Wilco put out a pretty good album in 2022. It's mostly because my 9-year-old really started listening to the radio this year, developing her own tastes and preferences, and (politely) requesting that we listen to something cooler than her old man's music all the time. This has, first of all, reminded me that radio is still, in fact, a thing and asserts a big influence over the pop-culture landscape. It also made me much more aware of what the kids are listening to, and that I don't really hate or love most of it.
There are really only two items on this list got any appreciable airplay, as far as I know. Nor do I have much of anything that could really be classified as hip-hop or modern R&B. Not even Lizzo managed to crack the Top 30! What?! I don't know if it's a fluke or because I made a semi-conscious decision to embrace the fact that I just like guitars and melodies or because there happened to be a lot of good guitar-driven, melodic songs this year.
OK, enough with the disclaimers and excuses. If you're a Dad Rock and '90s Nostalgia aficionado, have I got 30 tunes for you to check out.
For your listening convenience, here is a Spotify playlist of (most of) the complete countdown, or if you prefer, you can follow this link to listen on Youtube Music.
30. "Feel Like Going Home," Miko Marks and the Resurrectors
Oakland isn't exactly renowned as a hotbed of Americana and country music, but there was actually a lot going on behind the scenes in 2022—starting with the fact that an Oakland singer snagged the No. 12 slot on Rolling Stone's list of The 25 Best Country and Americana Albums of 2022. It's also on my list of Five Great 2022 Albums by Oakland/East Bay Musicians, and you can read more about it there, but suffice to say the opening, title track sets the stage with its classic country-soul sound, complete with gospel-choir arrangements and a powerhouse vocal performance by Marks.
And here is another representative track from one of the Five Great 2022 Albums by Oakland/East Bay Musicians that I featured. There's something especially R.E.M.-like about this jangly, uptempo number. I don't know if the longtime Oakland power-pop band was trying to channel the feeling of Mike Mills and Kate Pierson chiming in with interweaving countermelodies as the song barrels toward its conclusion, but they nailed it.
Slick, anthemic indie-pop about misunderstood misfits falling in love? This takes me back 20 years, when Tegan & Sara and Rilo Kiley ruled the blogosphere. Good times.
27. "Please Don't (Let Me Down)," Smiles
To restate what I said previously: This is the closing track from an alt-rock EP "that was recorded in 2016, wasn't released until 2022, and sounds like a forgotten gem from 1993. This is nostalgia catnip for aging fans of Teenage Fanclub and Superchunk like yours truly."
26. "Stay Soft," Mitski
I can't quite put my finger on why Mitski's sixth album was such a letdown for me compared to her fifth, which was one of my favorites of the decade, but if the whole of Laurel Hell had been more like this moody, danceable track, I think it would have been a different story.
25. "Make It Right," Sasami
It took me a while to figure out what this track reminded me of, and then one day it hit me: Lindsey Buckingham's coked-up contributions to Tusk. Maybe leaning a bit more metal and bit less of whatever Buckingham thought post-punk sounded like, but still frenetic, melodic and a bit strange.
24. "Hints," Wilco
Jeff Tweedy's work has been trending a bit less abstract and bit more political leading up to the Chicago band's first overtly "country" album in 25 years. On Cruel Country, he embraced a terrible pun and made many of the songs both twangy and literally about the current national climate where, for a certain percentage of grievance-based Americans, "the cruelty is the point." Nowhere is this critique more overt than on "Hints," when he sadly reflects, "There's no middle when the other side would rather kill than compromise."
For the Brooklyn band's fifth album, they came up with the cuckoo-bananas idea of recording five different albums in five different locations and smashing the best bits into one sprawling release. Some tracks sound like Talking Heads-style art-rock, while others sound like this fiddle-heavy, acoustic hootenanny. There is not a more joyous moment in all of the music I listened to in 2022 than when Adrianne Lenker name drops "Diane Lee" and then, by way of explanation, shouts, "THAT'S MY GRANDMA!"
22. "Chapstick," Coin
I discovered this track on SiriusXM's Canadian indie-rock station, which is weird because the dance-pop band is from Nashville. I guess The Verge can get away with playing a certain percentage of non-Canadian artists? Or one of the dudes in the band is maybe a Canadian citizen? I dunno. Track slaps though.
Imagine this: Me not hating an Imagine Dragons song! I was shocked to discover the bombastic Las Vegas outfit known for "Thunder" and "Radioactive" was also responsible for the new pop-soul track I kept hearing on the radio and enjoying. My kids' requests to play Bones definitely resulted in it moving a few spots up in the rankings, and lord knows the lyrics are engineered to appeal to my 4-year-old, but I think it would have cracked the Top 30 regardless.
20. "Man About Town," Danage
As I alluded to above, 2022 was an intriguing year for Oakland bands combining country music with other genres. In addition to Miko Marks' country-soul, Aux Meadows dabbles in something that can best be described as "ambient country." And then there's Dan Danage, who tossed some stoner-rock in the mix and came up with this shuffling tune about just walking 'round in a cloud, checking out the ladies down by Lake Merritt, and chilling in the nosebleeds at the Coliseum.
My on-again/off-again relationship with Death Cab is back on again. Lots of the music produced over the last two years has been a response to COVID-19, but I'm not sure anything has capture the anxiety and chaos of the pandemic quite like Ben Gibbard and Co. with their use of agonizing slow microtonal synth slides, relentless distorted kick drums, lyrics about coffee "devouring my body," and one explosive music video.
"Bad Habit" was Lacy's breakthrough, earning him a No. 1 hit and both Record and Song of the Year Grammy nominations, but it was another track from his sophomore release of progressive R&B that caught my attention. Compared to the effortless charm of "Bad Habit," "Mercury" is built on more complicated Latin rhythms and a falsetto vocal hook that veers near—but never into—"goofy" territory.
Continuing on the path she established with 2019's "Comeback Kid," Van Etten dodges her reputation for "moody-girl-with-a-guitar" songwriting with offers up another dancefloor-worthy jam, albeit one about the joys of being a terrible dancer.
16. "Music For a Sushi Restaurant," Harry Styles
Like everyone else on the planet, I was immediately smitten with "As It Was," but it was "Music for a Sushi Restaurant" that made me sit up, take notice, and ask myself, "Am I a Harry Styles fan?" I was, frankly, shocked to hear something this complex on the pop radio station my daughter prefers (and, to be fair, I never heard them play it again). With its horn stings, scat singing, complex harmonies, and non-standard structure, sophisti-pop is back, baby!
A 21st century update of "Please Mr. Postman" where the beats are bubbly, the vibe impossibly cool, and "mailbox" rhymes with "what the fox?" For a wordier take on Toro y Moi's unclassifiable post-modern chill, please see the rundown of my favorite East Bay albums.
14. "Hurricane," Plains
Waxahatchee's Katie Crutchfield embraced Americana on her most recent album (my favorite of 2020), and she went a step further this year by teaming up with Jess Williamson, who provides banjo and vocal harmonies on this track. The pairing brings out the best in both. "Hurricane" sounds familiar on first listen, and would be well on its way to becoming a country standard in a just universe.
If you're looking for the ideal song to accompany a video of bat rays struggling to breath in toxic water, then look no further. Back in late August, as tens of thousands of dead fish were piling up on the shores of Lake Merritt, I tweeted that this ominous, uncanny dirge was "the perfect soundtrack for Hot Algae Bloom Summer, East Bay Fish Kill Edition." And the band member running the group's Twitter account that day said, "This review might be our favorite yet." So I'm not sure how I can top that. I'll just add that this is the darkest, spookiest non-metal song I've heard since … I'm gonna say Bone Machine-era Tom Waits.
Josh Tillman updated his sardonic, melancholy reflections on the crushing ennui of modern life by going back in time and pairing them with various cuts of elegant pop straight out of Classic Hollywood. This tune comes down somewhere in the neighborhood of tropicália and lounge music. It all sounds muy romántico, but the lyrics paint a devastating vignette of a couple silently drifting further and further apart.
The Oakland singer-songwriter's full-length debut album is full of gentle indie folk and notable collaborators, but the standout track is a 6-minute, krautrock jam about driving home (presumably from a New Year's Eve party) through the East Bay hills at dawn, "stone-cold sober" and reflecting on change and what lies ahead. When chorus arrives, it breaks forth with gorgeous harmonies and a question: "What would it be like to be a beautiful young man?"
Thirty-one years after John Darnielle first hit record on his boombox, The Mountain Goats' 21st "studio" album is a tribute to '80s action movies, so of course it starts out with a training montage. I can hardly wait until the next time I see the band live and get to be part of an audience of fans all shouting along, "I'M DOING THIS FOR REVENGE!"
9. "The Hardest Cut," Spoon
Folks, Spoon simply does. not. miss. The most consistent band in the history of forever returned after a five-year hiatus with yet another collection of tightly wound, propulsive, alternative rock. After leading off with a cover (of all things), the band kicks things into high gear on this second track. And yeah it's propulsive, and yeah it's tightly wound, but that bent, syncopated snarl after each chorus? That's some jeremiah-johnson-nod-of-approval.gif shit right there.
8. "When You Know You Know," The Beths
Honestly, this band is just so good. If you're not listening to The Beths, what are you even doing? There are four or five tracks on the band's third album of nerdy, self-deprecating power-pop that were Rankstravaganza contenders this year (and there was probably an element of vote splitting that kept the Kiwi quartet from being ranked higher), but this one's expertly crafted chorus put it over the top.
OK, buckle up because this one that requires a lot of explanation. Once a week, on Thursday nights, I actually looked forward to doing the dishes, because it meant I got to spend an hour with Andrew and Evan Gregory, half of the familial quartet responsible for 15 years of the Internet's biggest viral musical-comedy sensations. Each week, their Punch Up the Jam podcast fully deconstructed a chart-topping tune—breaking down its lyrical themes, structure, chord progressions, you name it—and promised to produce a "punched up" version … but mostly just resulted in an amusing parody. There was the time they took Olivia Rodrigo's "Deja Vu" and fully committed to the song's odd Billy Joel fandom, or when they updated Kenny Rogers "The Gambler" as a bro-country metaphor about life-lessons gleaned from fantasy football. But having listened to all 52 episodes (before the brain geniuses at Headgum canceled the show), there was one time Andrew and Evan truly achieved the podcast's purported purpose and, rather than just doing a musical shitpost, created an indisputable improvement on the original song. For episode 35, they tackled Looking Glass' 1971 No. 1 hit "Brandy (You're a Fine Girl)" and realized that nothing really happens in this "story song" except the titular character feels sad for having been abandoned by some jerk sailor. So they wrote a version that gave Brandy some actual agency. To listen to the song, you can skip to 59:00 in the podcast, although to get a version without the hosts and guest laughing and talking over the audio, you'll need to pony up a measly $2 a month to become a Gregory Brothers Patreon—well worth it, IMO. Please also enjoy the fan art that my 9-year-old drew and got tweeted by the podcast's official account.
Hold on, wasn't there already a song called "Bones" by a band with a dumb name on this list? Yes, yes there was. But this one has coherent lyrics (about—what else?—a couple silently drifting further and further apart) and sounds like a track from a Lilith Fair promotional sampler CD. That is a compliment, by the way. Those discs were great and captured a vibe that Sophie Allison is clearly plugged into (despite having been about 1 month old when the first tour kicked off).
On a personal note: I will forever associate this song with being in isolation when COVID finally got me this summer. On Day 2, I got ready to make myself a sumptuous dinner and put this album on for the first time. Listening to the opening track at full blast while chopping vegetables is the most salient memory I have from one of the strangest, loneliest weeks of my life, and it's an overwhelmingly positive one. Thanks for that, Soccer Mommy. You genuinely helped me get through it.
5. "A Feeling That Never Came," First Aid Kit
I-I-I-IV-V. Chord progressions don't get much simpler than that. And there is nothing more to this song, chordally. It's the same four-bar pattern over and over and over again. The song spends 75% of its time on the tonic, for crying out loud. And yet it's brilliant. The Swedish folk-pop duo keeps things fresh by gradually layering on more and more stuff—strings, tambourine, hand claps, crunchy guitar, bass and drums, different rhythmic accents, different fills, different lyrical ideas—but the real masterstroke here is the sweet vocal harmonies. Two melodic lines, swirling around each other, weaving the perfect sequence of intervals to complement those simple, simple chords. I'm putting this on the imaginary 25th anniversary Lilith Fair promotional sampler CD I'm constructing in my head, too.
4. "Olivia [live at Rockwood Music Hall, New York City]," Wolves of Glendale
This one is also a result of my above-mentioned Punch Up the Jam superfandom. All three members of Wolves of Glendale were invited on the podcast as guests to punch up Magic's "Rude," and host Evan Gregory was effusive in his praise of the comedy band and, in particular, the video below. "You sang this song [that] sounded like it could have been penned by Hall and Oates … ," he said. "It just sounded tight as hell and also made me LOL." That was enough for me to seek it out, and I was not disappointed. The band has since come out with a studio version and music video, but dang if I don't prefer the live version. It does, in fact, sound tight as hell. I recommend just pressing play knowing as little as possible about the song and letting it surprise you line by line.
3. "Mushroom Punch," Zella Day
The follow-up album that L.A. indie pop ingenue Zella Day had been working on for the last seven years finally came out in October, although she let individual tracks trickle out all last year. (Attentive readers may recall that the disco throwback "Golden" was featured at No. 11 for Rankstravaganza 2022.) She has described "Mushroom Punch," the opening track, as a "psychedelic trip for the heart." Okidoke. Look, the lyrics (about a couple silently drifting further and further apart while on hallucinogens) don't really matter. It's all about the way the hushed verse explodes into a kaleidoscopic chorus featuring Day's anguished vocals and a fantastic walking bassline. If it takes seven years to produce something this slick, so be it.
I'm going to get personal again for a second here. That week when I had COVID that I mentioned earlier? It was right after my grandmother died—quickly, unexpectedly, and violently in a car crash after 96 years on this earth. I would never, ever have guessed that the song that would offer me solace would be written by the guy from Toad the Wet Sprocket, but kudos to Glen Phillips for penning a deeply moving anthem about mourning and the resilient bonds of family. As performed by siblings Sean and Sara Watkins (of Nickel Creek fame), along with the cast of characters that contribute to their monthly Americana musical revues at L.A.'s Largo, it takes on a hymn-like quality. On those late nights where I felt like crying over the memory of Nana and the fact that I didn't get to say goodbye, I'd put this song on to remind myself to "sing loud while you're able."
1. "Speeding Towards a Wall," Graham Hunt
Despite all the contenders, this is the piece of guitar-driven, melodic rock designed to appeal to dads and set off their '90s nostalgia neurons that landed at No. 1. I'm so happy I stumbled upon Hunt, who lives in Wisconsin and, as far as I can tell, doesn't really perform outside Madison and Milwaukee or get written about outside those city's alt-news-and-culture publications. If anyone on this list deserves a bigger audience, it's him, though. I'm not the only guy out there who loves some shuffling Midwest low-fi power-pop with neo-psychedelic overtones. There are dozens of us. Dozens! Furthermore, I feel like this song's resigned sense of impending disaster—the chorus is surely a Wile E. Coyote reference, right?—is thematically appropriate as we barrel headlong into 2023.