Rankstravaganza: My 30 Favorite Songs of 2021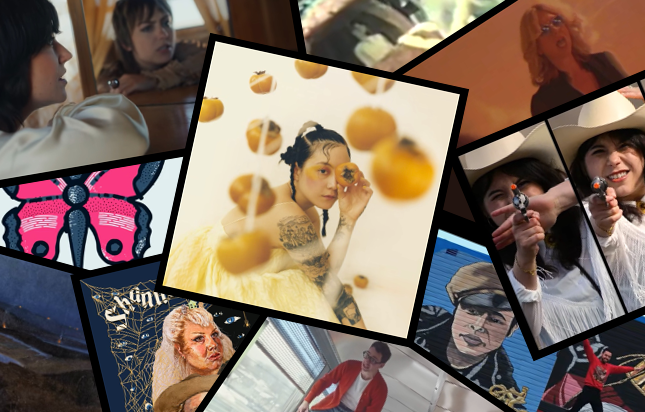 "Here we are. Once again here." Thus sang Eric Johnson on song No. 8 below. For most of the year, the track offered some comfort, a sense of coming back together following a long, isolated darkness. But now that I'm putting together another year-end "best of" list amidst less-than-encouraging headlines … well, the sentiment is more like, "Whelp, here we are again." Another year, another list, another variant.
It's not clear to what degree Johnson (entering his 25th year of recording as Fruit Bats) meant for those lyrics to specifically be a COVID reference, but he had to know it would be widely interpreted that way. There's a lot of such moments in this year's 30 featured tracks. I'm not sure how anyone could hear a line like "Avoiding big crowds like I used to" or see a song title like "Till I Dance With You Again" and not connect it to their pandemic experience. On the whole, I'd say these songs are a hopeful bunch, rooted in the possibility of muddling through somehow and reclaiming a semblance of fellowship, cohesion, progress, and well-being. Perhaps 2022 will deliver on that promise.
This batch of songs also continues a trend that's been growing among my most-played tracks for the last several years: More than half of them have, at the very least, a female vocalist. More often, it's a musical project where she is also the songwriter, instrumentalist, co-producer, creative director, etc. Is this because I'm making more of an effort to expand my musical horizons beyond "dudes with guitars," or is it because the most interesting, ground-breaking pop-rock in 2021 is being made by women? A bit of both probably.
I'm also excited to report that more than a third of these tracks are by East Bay musicians. I redoubled an effort that began last year to better acquaint myself with and support local music. Every time Bandcamp Friday rolled around, I'd turn on the website's Oakland filter and browse the best-selling tracks. Frankly, this seems like the type of content that somebody should be featuring in a monthly podcast, and I've half convinced myself that I should be that guy. We'll see if the other half can be convinced in the new year.
For your listening convenience, here is a Spotify playlist of the complete list, or if you prefer, you can follow the link to listen on YouTube Music.
UPDATE (01.07.2022): The list has been altered after it came to my attention that the masterful "Peoria" by Field Report, which had been at No. 15, was actually released in early 2020. Sorry to Christopher Porterfield, but your sacrifice made room for Julien Baker.
This may not be the most popular track from the Memphis singer-songwriter's acclaimed third album, but it's the perfect distillation of Little Oblivions' highly personal motifs of addiction and recovery, self-doubt and self-sabotage, guilt and apology. The song matches the enormity of these weighty themes with a relentless, hammering beat and an epic, swelling melody.
With 2020's The Neon Skyline, Canadian singer-songwriter Shauf wove a short-story-in-album-form about a narrator who runs into his ex while out at the bar. The opening track to his follow-up revisits the same couple, pre-breakup, and offers a glimpse into a simple ritual they had of playing the lottery each week. Shauf is a master of allowing little details to reveal nuances about his characters. This is actually a reworked version of a B-side Shauf released last year, this time with a bit more of a laid-back groove.
"Prunge" is a portmanteau of "pop-grunge," and if you Google it, Nichols is pretty much the only person who uses it. But the Oakland rocker is in good company among the likes of Pixies and "Pinkerton"-era Weezer, combining wailing self-loathing and chaotic, distorted guitars with sweet, sticky melodies. And, frankly, I have a special place in my heart for all my fellow Metro Detroit transplants here it in the East Bay,
OK, so the song is "Pink City," off the album Pink Planet by Pink Sweat$. And as the gospel-tinged track explains, inventing this whole pink universe was an attempt by the Philly singer to escape the harsh realities of growing up in a place that's not so rosy hued.
26. "Hey You, What's New," Al Harper
The opening tune from the Oakland singer's debut is pure '70s AM gold, complete twinkling Rhodes piano accents and a voice-over in place of the third verse. Later in the album, she slips a bit more comfortably into the "Kate Bush via Bakersfield" descriptor that her label has given her—which, I mean, genius—but on this track it's all teenage heartbreak and sun-dappled, smooth sounds.
If I understand the story correctly, Kanye decided that this rap duo that he knew from his Chicago days deserved another shot, convinced them to reunite, produced their first album in a decade, and put it out on his own label. This single is little more than a beguiling vocal sample with some conscious rhymes about striving for positivity and self improvement, but it works.
For an activity that is so closely associated with music—from the roller rink DJ to just rolling with a boombox—it's pretty surprising that there aren't more skating songs. Into this vacuum step Bruno Mars and Anderson .Paak, and they nail it with a joyous, retro soul homage.
Though it has no lyrics, this bittersweet waltz of a title track—recorded live in the teenage Quale brothers' Alameda backyard—just really captures something about the year we've been through. It's also a fine showcase of the brothers' mandolin and fiddle playing. I feel like a broken record, but seriously: I can't get over the fact that little ol' Alameda, California, has this sort of talent hiding in its ranks.
22. "Joe Pesc," Genra
Oakland rapper John Gilcrist, a.k.a. Genra, grew up listening to Del the Funky Homosapien and the rest of the Hieroglyphics crew, and there's a brief reference to the collective on this track, which comes out of the gate strong and just doesn't let up. A meditation on the creative process delivered over a The Low End Theory-worthy bassline, Genra's flow on this track is infectious.
21. "The Path," Lorde
Sorry Olivia and Billie, of all 2021's songs by young female pop superstars about what it's like to be a young female pop superstar, the opening track to Lorde's highly anticipated third album was the one that broke through for me. I'm just a sucker for three-part vocal harmonies, and the 25-year-old Kiwi (with an assist from Jack Antonoff, who had a helluva year) lays them on thick.
20. "It Won't Hurt You," Triptides
The Los Angeles trio has no illusions about what they're doing: Making jangly psychedelic rock that wouldn't sound out of place on FM radio in 1968 sandwiched between The Zombies and The Byrds. If that's your bag, this is your band.
By the time you get over the ha ha joke that Helen Ballentine's musical project is mostly banjo not blast beats, you'll be ready to let some dreamy, mid-tempo, indie folk wash over you.
18. "Wifi Beach," Brijean
What does an East Bay summer feel like? If you've never experienced the vibes of Lake Merritt on a warm July afternoon, you can put this dreamy track by the Oakland duo and get a little taste of the good times as a multitude of cultures and influences—dance, jazz, pop, lounge, bossa nova, house, salsa, disco, soul—mix and mingle.
And the winner of the annual Tom Petty Torch Carrying award for 2021—with an extremely goofball, synth-heavy, Jeff Lynn-era entry—goes to …
Go ahead and embrace the irony of a bouncy pop song about a relationship blowing apart into a blur of beer, recriminations, suicidal thoughts, drunk texts, shattered glass, denial, and masturbation.
15. "Giving Up On Love," Maratta
I don't pretend to fully understand what differentiates "nu-disco" from, say, house music, but San Francisco producer Maratta's contribution to Bay Area Disco's Compilation 001 album (and to my urban planning/transportation followers: Check out the album art ) is a clear highlight thanks mostly to the soulful vocals from … well, to be honest, I've been trying to figure it out for months now with no success. Whoever you are, soulful lady vocalist, you make the track.
I can't say I'd thought much about it prior to hearing the latest from the Milwaukee folk-rock band, but damned if Daylight Saving Time isn't a rich, thematic subject matter, as your sense of time itself is suddenly thrown off kilter and you find yourself out of sync with not only your own routine but the natural world. I guess that's why Chistopher Porterfield is an acclaimed songwirter.
The entirety of the Oakland singe-songwriter's sophomore album is immaculately produced, but this song, which comes near the then end of 12 tracks, has a mass to it. His vocals, which have the hushed quality of Iron & Wine or Bon Iver, combine with weighty instrumental foundation that makes the whole thing feel cosmic, ethereal, and panoramic.
13. "Breath and Your Bones," The Kilbanes
Another offering from an Oakland band. It's only the opening two minutes of a 44-mintue rock opera that pits the bonds of family against trauma and abuse, but it beautifully sets the stage, sonically and thematically.
Folks, it's power pop. If you like power pop, then you'll like this guitar-driven, melodic throwback from the Oakland-based band. (For those keeping score, that's three East Bay offerings in a row, and nine out of 19 so far.)
Along with real-life buddies Lana Del Rey and Weyes Blood's Natalie Mering, Day is a part of an L.A. alternative-pop scene that is deceptively smart, dreamy, stylish, tragic, nostalgic, and most importantly, catchy. This single, from a delayed third album, is a disco throwback that just shines. Can you dig it?
10. "The Destruction of the Kola Superdeep Borehole Tower," The Mountain Goats
How about that title, huh? Plug it into your browser and you'll fall straight down a Wikipedia hole about the deepest artificial point on earth and a fake-news conspiracy by 1990s Christian broadcasters and trashy tabloids to provide proof of the existence of hell. This is all brilliant fodder for John Darnielle, who uses the urban myth as the basis for one of his second-person-imperative acoustic rockers that strongly implies the titular tower wasn't just a simple casualty of the collapse of the Soviet Union but of something more supernatural and disconcerting.
The Philly-based singer-songwriter's latest album is full of deeply personal ruminations on teenage relationships—so convincing it's tough to imagine they're anything but autobiographical . So we have to believe that teenage Lucy really did skip school with a self-absorbed classic move buff . Thank God nobody I knew in high school got signed to Matador and decided to roast my ass the way she did this poor twerp.
8. "The Pet Parade," Fruit Bats
As referenced roughly 1,700 words ago, this song definitely had a "coming out of the pandemic" vibe back in spring when we thought we might come out of the pandemic someday. Good times. The song teeter-totters back and forth between just two chords, but there's beauty in that simplicity.
And here we have another pretty song about emerging from a season of bleakness and the promise better days to come. This is one of the more straightforward pieces of guitar pop on the Oakland garage rockers' first album in four years.
There might be a one or two other lyricists as accomplished as Craig Finn when it comes to writing about characters making questionable decisions, but nobody can make a drug-fueled fiasco sound as triumphant as The Hold Steady.
5. "Stop Making This Hurt," Bleachers
Jack Antonoff had a hell of a year, producing tracks for acclaimed albums by Lana Del Rey, Olivia Rodrigo, St. Vincent and Lorde (including song No. 22 above); sharing the 2021 Grammy for Album of the Year for his work with Taylor Swift; receiving 2022 Grammy nominations for Album of the Year for his work with Taylor Swift as well as Producer of the Year; and so on. But my favorite thing he did was the jittery, standout single from his solo indie-pop project.
4. "The Revolution Of Super Visions," Jane Weaver
I wish I could be as cool at anything as the English singer-songwriter is at saying "one, two, three, four" after each chorus. I'm not sure what's the shorthand term for this type of artist: an established, respected female artist who started out in a folk vein but has gradually introduced more adventurous experimentation to her music and has now decided to embrace her long-simmering Prince fandom and do a soul-meets-art-pop album . Whatever you call it, I've been all about it lately. Last year it was Caroline Rose, and this year it's Weaver.
These two make so much sense together, it's surprising that it took them this long to collaborate on something. Too bad it's just a one-off single. It's also a shame they couldn't find a way to make the chorus bigger. A few dozen French horns and an 80-inch gong would have cinched it.
At this point, I need to point out that I'm not consciously grading on a curve here when it comes to local musicians. East Bay trio Fake Fruit is at No. 2 because they were responsible for my second most listened-to song of 2021. They didn't get any bonus points because their album art includes an Albany Bowl illustration. Hannah D'Amato's vocals can legitimately be classified as "powerhouse," and the post-punk guitar riffs are fun as hell.
Sometimes it's a surprise to take stock of the music that you've listened to over the last 12 months and gauge what rose to the top, and sometimes you hear a song one time and say, "That's going to be my song of the year." This is a case of the latter. Man, what a song. I don't even care that the lyrical message is basically, "It sure is great writing songs that people love and relate to (but also it can be a a bit lonely)!" I'll buy that. Especially if you're writing songs this well. To my ears, it hearkens back a time when Balkan brass bands and highly literate chamber pop were all the rage, but my 8-year-old daughter also is smitten with this track, so its appeal can't just be all mid-2000s nostalgia.