Rankstravaganza: Five Great 2022 Albums (+ Two EPs) by Oakland/East Bay Musicians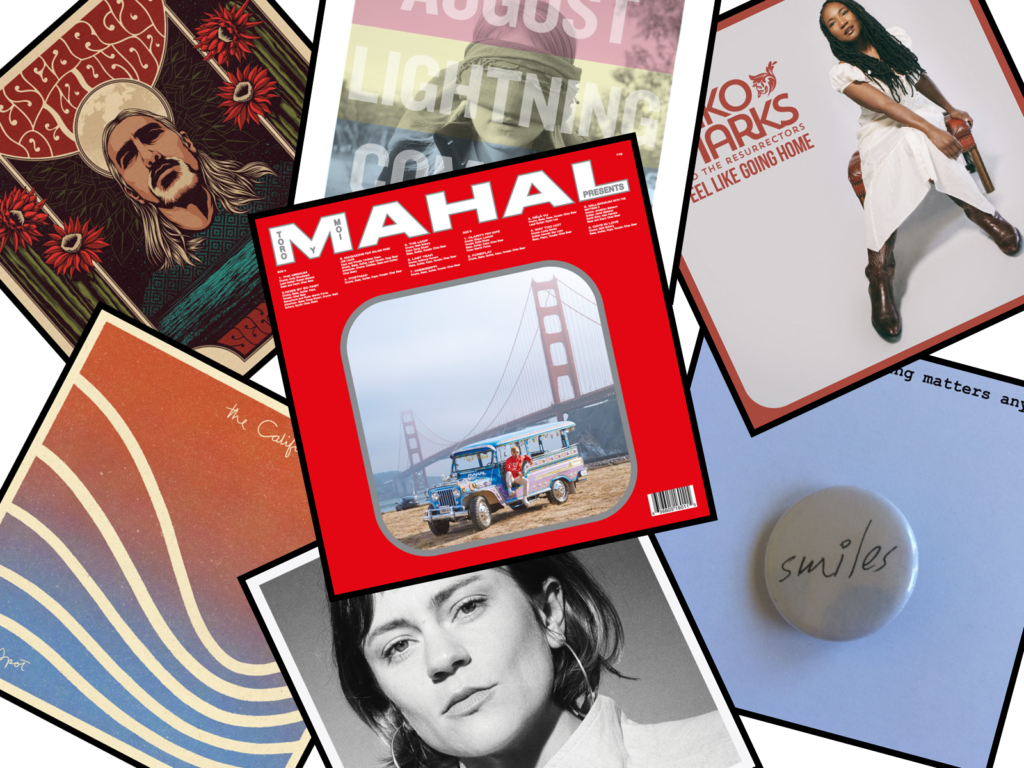 OK, so I ran the numbers, and a full 40 percent of the albums I listened to this year—really listened to, like more than once—were by East Bay-based groups and songwriters. This is not meant to be a brag. I think what I'm trying to say is that the City of Oakland is full of great music just waiting to be discovered, and seeking it out is a rewarding listening experience that can easily take up two-fifths of your commute and/or dishwashing time.
There's a great diversity to the music, too, one that mirrors the region itself. The albums that follow hew close to my personal preferences—we're heavy on retro soul and guitar-driven pop-rock, surprise surprise—but a brief perusal of Bandcamp's Oakland location filter reveals a lot of chill hip-hop, not-chill metal, experimental ambient music, and unclassifiable weirdness. But if you need a place to start, you could do worse that these five full-length releases and two EPs:
5. Feel Like Going Home, Miko Marks & the Resurrectors
I first came across Miko Marks in 2019 with this fantastic jam about roller skating around Lake Merritt. Everything I read about the Flint native, however, kept referring to her as a country singer, which threw me for a loop. "Are there two singers named Miko Marks out there?" I wondered. Of course there's no reason a black singer from Oakland can't make a one-off bouncy R&B anthem while also positioning herself for a breakthrough into the country music industry (and it speaks to our culture's insistence on keeping people in specific genre buckets that this seems at all odd).
Fast forward three years, and Marks has made impressive progress toward making that breakthrough. She toured with the Black Opry Revue. She was named a member of CMT's Next Women of Country Music Class of 2022. And her third album in two years made Rolling Stone's list of The 25 Best Country and Americana Albums of 2022.
Feel Like Going Home doesn't sound much like what's getting airplay on country radio nowadays. It's more like what was coming out of Muscle Shoals 50 years ago. It's a collection of immaculately produced country-soul with full gospel-choir arrangements, smoking guitar solos, and Marks belting out lyrics that walk the line between vaguely religious and preaching justice and community.
Speaking of Oakland bands sounding just like the soul music that was coming out of specific Southern cities five decades ago, with its Stax-style horn arrangements, The California Honeydrops' latest has got Memphis soul covered. And speaking of genre success despite preconceived demographic notions, singer Lech Wierzynski absolutely earns comparisons to the vocal stylings of classic R&B singers like Sam Cooke and Sam & Dave despite having been born in Warsaw, Poland. Put this album—the quintet's 14th in as many years—on at your next dinner party, ask them to guess what year it came out, and then blow everyone's minds when you tell them the answer is 2022.
Look, I don't want to reduce McVey's album to a roll call of collaborators, because the soul-searching lyrics combined with her downy, drawly voice hold some intimate surprises throughout, but just look at who she managed to help her out with her full-length debut:
James Wallace, a.k.a. cosmic-folk journeyman Skyway Man who splits his time between Oakland and Nashville, produced.
Mat Davidson, known among other things for playing fiddle and pedal steel on Big Thief's critically acclaimed Dragon New Warm Mountain I Believe You, lent his multi-instrumentalist talents.
Alan Parker of Spacebomb Records' house band, responsible for backing the likes of Matthew E. White and Natalie Prass, played electric guitar.
Molly Sarlé, who provides one of the three parts harmony in Mountain Man, sang backup.
And special thanks to COVID-19, which kept the contributing musicians from touring and gave them time to record their parts in separate locations over long distances and two years.
Despite that, the album comes off as a cohesive and meditative reflection on love and loss.
Consider this: In the year 2022, when popular music's center of gravity has shifted so thoroughly to R&B, maybe an album of solid, melodic rock 'n' roll is the real boundary-pushing move. Yeah, I don't buy it either. But if you like melodic rock 'n' roll—and I do, I really do—this one is extremely solid. After 17 years leading The Bye Bye Blackbirds, singer/songwriter Bradley Skaught has refined the act of making guitar-driven, somewhat-jangly power-pop into a finely polished craft.
Oakland's Chazwick "Chaz Bear" Bundick has put out nine albums (mostly under the moniker Toro y Moi) since 2010, several of which charted; is currently on Dead Oceans; and has been nominated for a Grammy, and I'm only finding out about him now? Ever since I came out from the rock I'd been under, I've noticed Toro y Moi popping up just about everywhere, from the Pitchfork Music Fest to ads for hotels.com. I told my brother-in-law the album sounds kinda "Beck-ish"; he replied, "And what exactly does Beck sound like?" and I didn't have a great answer. As with Mr. Hanson's work, trying to sort Toro y Moi into a single genre bucket is a futile effort. "Chillwave" seems to be the consensus, and while I can't tell you what chillwave sounds like either, it's true that Mahal's mood is consistently chill. For me, that's the larger story here. Diverse influences mix together to create genre-defying sounds, particularly laid-back grooves that conjure up carefree summer afternoons hanging with friends? That's the Oakland sound in 2022.

And also, here are two great EPs…
2. Semillas, DDLO
An Oakland-based latin-music collective, DDLO employs plenty of cumbia and salsa rhythms and traditional instruments, but it mixes in electronic elements and a good dose of psychedelic rock. Like I said: diverse influences mixing together.
1. Nothing Matters Anymore, Smiles
A small but satisfying portion of alt-rock that was recorded in 2016, wasn't released until 2022, and sounds like a forgotten gem from 1993. This is nostalgia catnip for aging fans of Teenage Fanclub and Superchunk like yours truly.
And for the record …
My five favorite albums of 2022 from locales other than the East Bay are:
4. Sunday in Heaven, Zella Day
3. Expert in a Dying Field, The Beths
2. If You Knew Would You Believe It, Graham Hunt