Most Intriguing New Releases by East Bay Musicians of March 2023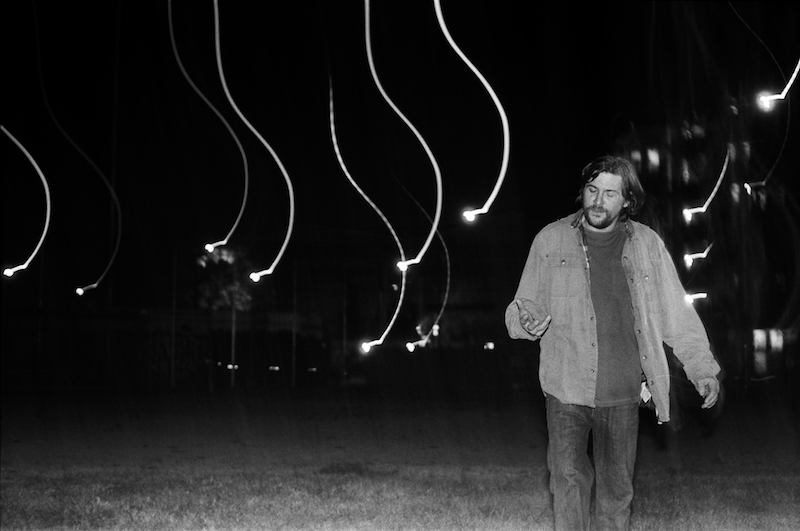 This is a good month, folks. I am excited about several of these new musical offerings from Oakland and Berkeley singer-songwriters, rappers, mystery jazz ensembles, alter-egos, you name it. I want to just jump right into it.
So here is this month's playlist, providing samples of all the actual new releases out of the East Bay (not reissues, not Italian metal bands on an Oakland-based label) that Bandcamp has to offer and didn't make me immediately hit the skip button. Then keep scrolling for a few fun facts, background info, musical reference points, and amateur-critic zingers for the first six featured tracks.
It's been five long years since real-life Oakland singer-songwriter Nic Russo released an album by his unstable, gaudy, critically acclaimed alter-ego Dick Stusso. Out on Hardly Art, S.P. has 18 tracks, none clocking in at more than 2 minutes, 52 seconds (which maybe explains the occasional Guided By Voices comparison). Lead single "Garbage Dump #1" finds Stusso right in his glam-meets-gloom sweet spot, sounding like Bowie or Slade after a few too many, soulfully stumbling along to a ramshackle piano and boozy horn arrangement (courtesy of Russo's Grammy-winning saxophonist father). Ed. note: Hey, it also turns out Russo is a former member of last month's featured band, Blues Lawyer. How about that!
Here is another widely acclaimed Oakland singer-songwriter—notable enough for her own short Wikipedia page—for whom we have been waiting five years to release a follow-up album, and it's finally here. Like Hannah Van Loon's debut, this one is also released under the name Tanukichan, out on Company Record Label, and produced by Chaz Bear, whose own album released under the name Toro y Moi was my favorite local release of 2022. She says it's more uplifting and inspired by '90s radio hits, and the lead single, "Don't Give Up," does have a inspirational title, but dang if it doesn't still sound like scuzzy, dark, metallic dream-pop. Those are all definitely adjectives that can describe dream-pop without the genre description losing all meaning, by the way.
I'm not 100% sure, but I'm pretty sure this fellow is a Sacramento native currently residing in Berkeley; his Bandcamp bio is a little unclear. But I'm going to give him the benefit of the doubt because I am 100% a sucker for melodic pop-punk topped with furiously strummed mandolin to give it an Americana edge. "Here's to another shitty folkcore album," read the liner notes. Cheers to that.
I know Bandcamp says this album was released in January. I'm here to tell you it's been in "future release pre-order" mode for the last two months, because I've been waiting and waiting for all eight tracks to be available before featuring it here. I've been listening to the opening track that whole time, and it's a sparkling treat of bedroom pop that just gets more and more charming. The guy behind it, Graham LeBron, is a composer of commercial ditties and film scores, as well as a multi-instrumentalist who has played with Rogue Wave and Fruit Bats, among others.
Oakland indie musician, afrofuturist novelist, poet, photographer, and collage artist Tyrell LaRon (a.k.a. L*Roneous) has re-teamed with Albuquerque emcee and producer Luke Hale (a.k.a. BlesInfinite), who has not released an album in **checks notes** five years. Hmmm, seems to be a running theme this month. L*Roneous has literally dozens of full-lengths and EPs to his name, including the underground classic Imaginarium way back in 1998. So, yup, no surprise that this album full of conscious lyricism and dope samples. I can't believe I just typed "dope." BUT THEY ARE.
Did the Stupid Pillow Fall Again?, Pillow Fort
I just had to include this one because that album title is simply LOL marvelous. This one is for the jazz fans. My 3-5 minutes of investigative journalism uncovered quite literally zero information on this group. I have no idea about the lineup, whether they have any other releases or upcoming live shows, who the guest vocalist is on the EP's closing track. They appear to have no social media presence. They are, in short, A MYSTERY. But a tight mystery with good instrumental chops and, clearly, a sense of humor.