Most Intriguing New Releases by East Bay Musicians of February 2023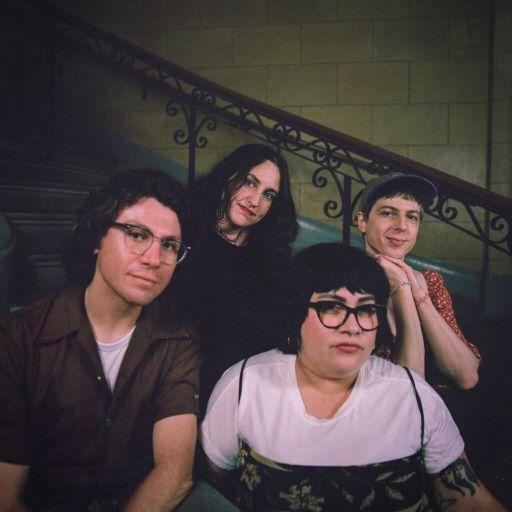 One of the longstanding complaints about Bandcamp has been that users could not make and share playlists. Well, my favorite audio distribution platform got halfway there last week when it released a playlist feature within the Bandcamp app. I was so excited I posted about it on ye olde Mastodon account. "Alas!" I wrote (and I'm paraphrasing here), "while I can now create mixes of the best tracks from the albums I've purchased, I still can't, for example, compile a list of the most intriguing new releases by East Bay musicians each month and share it with my reader … er, I mean readers … I definitely have multiple readers."
Well, through the magic of the fediverse, a random Mastodoner came across my … toot (hoo boy), and directed me to BNDCMPR, an unsanctioned tool that scrapes tunes off of Bandcamp's website and let's you assemble them into sharable, embedable playlists. And so, here you go, dear reader:
Curious to know more about the albums represented by the first five songs on the playlist? I know you are!
OK, so you might argue the Oakland alt-rock quartet is overplaying the "endearingly awkward" schtick. But those melodic riffs? The casual Teenage Fanclub mention in album PR write-up? The goofy DIY music videos? That genuinely funny bio ("internationally ignored song stylists")? Objection overruled!
Will this acoustic re-imagining of his 2022 album White Jesus Black Problems win Oakland's Xavier Dphrepaulezz his fourth Grammy Awards for Best Contemporary Blues Album? We'll just have to wait until next year's awards season to see, I suppose.
I Believe in You, Meernaa
This Oakland R&B quartet's latest is a consistently surprising collection of songs, full of nods to '70s soul, progressive rock, funk, and yacht rock; sweeping string arrangements; and sultry, ethereal vocals. My only complaint? It's only three tracks long! I want a full-length album of this spacey, smokey, smooth adventurousness.
While recovering from COVID late last year, the Oakland beats-maker challenged himself to make some beats using only vintage samplers and drum machines without benefit of a DAW (that's a digital audio workstation for you non-producers out there). The results—inspired by old-school hip-hop and jazz—sound damn good.
Geomancy, Owl
There's a lot of Oakland-based metal on Bandcamp. Like, A LOT. For me, Owl stood out from the crowd. The band's sound is more vintage Sabbath and King Crimson and Thin Lizzy than Gorjira or … look, I don't know what the young metalheads listen to nowadays. Anyway, this has singing and lyrics you can understand, dual guitars playing harmony licks, and judicious use of blast beats.
Also out in February 2023: