Most Beguiling New Releases by East Bay Musicians, April 2023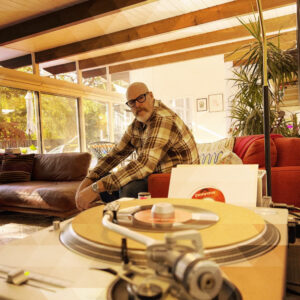 I'm trying out a new adjective in the headline this month. Maybe I'll visit thesaurus.com and use a different adjective every single month! That'll be something.
Compared to last month's rundown of new music outta Oakland and Berkeley and such, April's batch of releases is not as instantly … beguiling. It's going to take more time to let these songs rattle around in my noggin. But there's potential. Listen for yourself to this month's playlist. And then, because I can't just share music without blabbing about what's interesting about its backstory or chord progressions or whatever, I'm going to blab out the backstory or chord progressions or whatever for the first few songs.
Here's the backstory on this one: Charlie Tate is a 6'8″ English bass player who settled right into Oakland's music scene in the early '00s, hanging at Kingman's Lucky Lounge in the Grand Lake district, making friends with fellow musicians, sampling the mix blues and funk and jazz in the air (and on vinyl), funneling it into the hip-hop collective Colossus, putting stuff out on Om Records, and generally receiving a bunch of well-deserved acolades and recognition. Lately he's been releasing a track every few months via a solo project that combines samples and live instrumentation, and now the full album is finally here.
I would give songs numbers instead of names if I could. I can? Ok. Here I go, but not really., B Hamilton
Here's another generally well-regarded fellow who's been banging around Oakland's music scene for more than a decade. Ryan Christopher Parks earned his first East Bay Express profile in 2011, and he's still putting out new, vaguely folky, ironic indie rock. You know I gotta call out that album title.
Simulation Error Code 139, Spacey Jester
I FEEL LIKE I NEED TO TYPE IN ALL CAPS TO MATCH THE ENERGY ON THIS RELEASE. IT'S ONLY TWO TRACKS OF SOME HIGHLY ENTHUSIASTIC DRUM-AND-BASS MADNESS BY A GENDERFLUID COMPOSER/DEVELOPER WITH NO FOLLOWERS, BUT I KINDA LOVE IT.
This one is for the post-punk fans. If you like Joy Division (and you're not a purist snob), I'm pretty sure you'll dig this Oakland band.
This is bending my self-imposed rules a bit, because this is just a single and will probably be released as part of some sort of full-length or EP before the end of the year, but it's just such a fun, well-produced slice of polyamorous pop that I can't help but shine a spotlight on it RIGHT NOW. Also: Guy can sing, yo.