Rankstravaganza 2013: My 30 Favorite Songs of the Year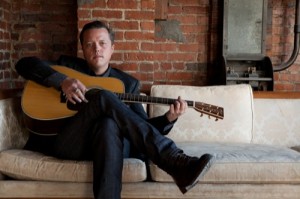 Once again, I'm turning this in a few days past deadline. No matter! It's still not too late to celebrate 2013, which in my musical estimation was a year of songwriters singing about specific places, of longer-than-long-awaited follow-ups, of gorgeous melodies, of Bowie-esque glam rock and of actual Bowie. There's lots of Americana, some blistering noise rock, several Bay Area artists and very little rap (sorry!) to be found on this year's countdown. So, you know, the usual. I hope you enjoy these tracks half as much as I did.
And away we go!
30. "After Mardi Gras," Steve Earle & The Dukes (& Duchesses)
Earle co-wrote this acoustic shuffle with his Treme costar Lucia Micarelli—her melody, his lyrics—and it was featured on the HBO series as a tune written by Micarelli's character, Annie. Earle's words concern a heartbreak delayed by New Orleans' splendor, but I gotta say, my affinity for this song probably has more to do with Micarelli's contribution. The tune is as breezy as the Big Easy.
29. "She Ain't Speakin' Now," Of Montreal
Of Montreal wasn't always synonymous with elctro-funk, but it's been so long since Kevin Barnes' pop project has featured guitars more prominently than keyboards that his latest album registered as an abrupt change-up. Rediscovering some of the '60s psych-pop that launched the Athens, Ga., band in the first place without losing the bordering-on-uncomfortable introspection of recent albums, Lousy With Sylvianbriar is full of tracks like this one: woozy, Beatles-esque romps anchored by strong guitar riffs.
28. "Skeleton Key," Dessa
For being a member of a prominent indie hip-hop collective, the Minneapolis artists really downplayed the rapping on her second proper studio album. Like most of Parts of Speech, this track is entirely sung. Unlike a lot of the rest of the album, it wouldn't have sounded out of place on Parts' predecessor, A Badly Broken Code. That's probably because the song was produced by her Doomtree labelmate, Lazerbeak, and it bears his mark in its propulsive, minor-key beats.
27. "Joy to You Baby," Josh Ritter
The "divorce album" is a very tricky thing to pull off without appearing self-serving and vindictive or playing the victim. Ritter mostly acquits himself well, particularly on this bittersweet track, on which the Boston-based singer-songwriter rises above the wreckage of his marriage to fellow musician Dawn Landes and wishes her—and himself—all the happiness they were unable to find together.
Josh Ritter is performing Jan. 23 at The Fillmore in San Francisco with Gregory Alan Isakov. [tickets]
26. "I'll Trade You Money for Wine," Robbie Fulks
One of Chicago's most talented songwriters, alt-country mainstay Fulks says the opening track to his 12th album is about one of those "streetcorner seers and prophesiers and lesser loudmouths." A stark folk song featuring Appalachian fiddle and a Nevada setting, it describes a town wino who decided drinking his troubles away was preferable to scrimping 'til his hair turned grey. [even more words]
25. "New You," My Bloody Valentine
This is probably the closest thing to a pop song on the enigmatic Irish band's first album in 22 years, which picks up right where Loveless left off, awash in guitar noise and androgynous vocals. This track adds a bouncy bass line and a slightly more palpable melody to the mix.
24. "Knock Me on the Head," Stornoway
I discovered this English folk-rock band via label 4AD 2013 summer sampler and was pretty immediately smitten with its ostentatious, nonsensical lyrics; three-part harmonies on the chorus; vintage keyboard sounds; and reference to "The Rime of the Ancient Mariner." It is supremely nerdy, literate, precious and catchy—just the thing for a year that didn't feature a Decemberists release.
23. "Into a Dream," Shannon and the Clams
Sounding like a broadcast over a ghost radio that somehow receives a signal from 1959, this Oakland-based retro-punk trio hasn't lost its sense of zany adventure, but this track in particular is a pretty straight-up, no-nonsense, old-school R&B song, driven by Shannon Shaw's raggedly soulful vocals. Nothing wrong with any of that.
[free mp3 available via The Bay Bridged]
Shannon and the Clams performs Feb. 1 at The Chapel in San Francisco. [tickets]
22. "Hey Tonight," Free Energy
Nothing on the Philly band's sophomore album approaches the scuzzy awesomeness that is "Bang Pop," but this is a pretty all-around sweet song, even if it's more pop than power-pop. It still has plenty of teenage horniness at its core, which seems to be Free Energy's raison d'etre.
21. "Coast to Coast," Waxahatchee
Somewhere between her debut and follow-up, Brooklyn-based singer-songwriter and Alabama native Katie Crutchfield's project stopped sounding like low-fi, acoustic demos and started sounding like a kick-ass rock band. It still kind of qualifies as alt-folk, though—just plugged in and featuring some booming bass drum fills.