Report From the Show: Pink Martini at Stern Grove, SF, 08.11.13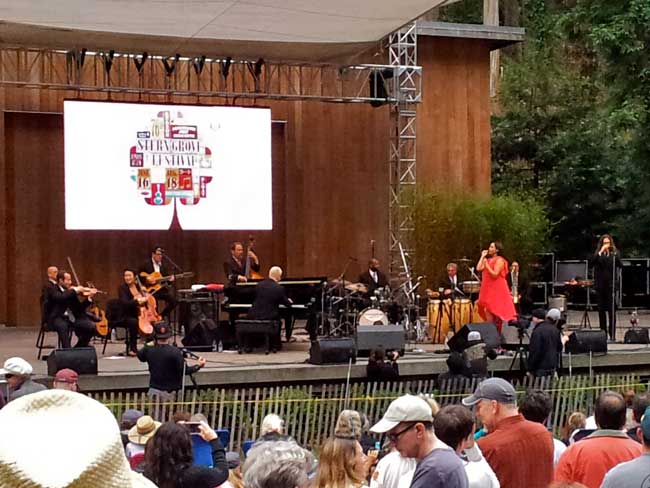 There may be other shows where a 12-piece band performs songs in English, French, Spanish, Italian and I think Japanese. There may be other shows where you'll find an inordinate number of audience members wearing pink feather boas and playing air piano. But, I guarantee, if the show opens with an arrangement of Ravel's "Bolero," you are at a Pink Martini concert.
The Portland, Ore., ensemble performed Sunday as part of the Stern Grove Festival, which has been presenting free, weekly, summer concerts among the eucalyptus trees since 1938. Band leader Thomas Lauderdale said it was the first time the had been a part of this San Francisco tradition, but its classy, international flavor seemed like such a perfect fit for the crowd and venue, I wouldn't have been surprised to learn that they do this every year. Nor would I be surprised if they get invited back. The grove was packed—so much so that organizers had to close off the Concert Meadow by 1:20 p.m. This is hardly unheard of, from what I understand, but it's still an impressive number of people, and latecomers were still trying to sweet talk their way into section well into the show. ("What if we have friends in there already? No? OK, well I'm just going to go in and get some food and come right back out. No?")
Pink Martini previewed a couple of the songs on the group's new album–its first since 2009–which will be out Sept. 24. Among the new songs was "Ich Dich Liebe," which was originally sung by '50s blond bombshell Mamie Van Doren in the German western Freddy und das Lied der Prärie (Freddy and the Song of the Prairie). This is the sort of well from which Pink Martini draws.
Because this was August in the Sunset District, the temperature barely topped 60 degrees. Singer China Forbes, who was dressed in what looked to be a rather drafty red gown, announced, "It's just not that cold," shortly after she took the stage. There was so much warmth coming from the stage, I almost believed her.