Newcomer's Perspective: 10 favorite Bay Area acts I've discovered since moving here
It's been a little more than six months since I relocated from Michigan to sometimes-sunny Oakland, and I've tried to delve into the local music scene. According to my obsessive cataloging of music in my iTunes library, there are roughly 40 Bay Area indie rock bands, alt-rappers, world/jazz fusion combos and soul singers that I've sampled since November. Some of them fell off my radar rather quickly, but others I've returned to again and again.
Using the same convoluted formula I employ for my End of the Year Rankstravaganza, I took a look at which local bands have been racking up plays at the greatest rate.
I was obviously aware of  Tony! Toni! Toné! back in the day, but I failed to keep track of what Saadiq has been up to since "Feels Good." It turns out the Oakland native has done it again, releasing another critically acclaimed album of old-school soul. I was introduced to the song "Good Man" through an application for a lyrics editing position that I didn't get. (I still need a job; check out my resume and make me an offer, media moguls!) In stark contrast to the other assigned song, the Glee version of "Blame It (On the Alcohol)," listening to Saadiq's slow-burning tale of domestic drama over and over and over again didn't make me want to puncture my eardrums with a chopstick. In fact, the more I listened to it, the more impressed I was.
[free download available as part of 38thNotes' The Bay Abridged January Mixtape]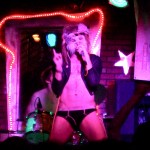 2. Nobunny
Garage-punk energy, bubblegum melodies, a bunny mask, handcuffs—the only thing Justin Champlin doesn't bring to the stage when performing as his floppy-eared alter ego is pants. I looked through all of the NoisePop 2011 offerings and decided Nobunny's performance at Bottom of the Hill was the one to catch. He didn't disappoint. It was freaky, funky and furry. Having the Arizona native as part of the local scene is Oakland's gain and Tucson's loss.
I knew nothing of San Francisco rock band Fake Your Own Death prior to attending the Save KUSF benefit at The Uptown in Oakland back in March. The band was so tight and professional, I assumed its members were veterans of the local indie scene, and sure enough, at least one of them was a driving force behind Elephone. Terry Ashkinos' brooding baritone inevitably earns the band comparisons to Joy Division, but there's no denying that FYOD likes to hang out in the darker corners of post-punk. I haven't heard the band since half its lineup was replaced, but the current members promise "a bigger, stronger beast of a band."
See the band live at 9 p.m. Thursday, May 26, at Bottom of the Hill with White Denim and Angel Island.
4. Sic Alps
I haven't gotten on board with the whole lo-fi scene that the rest of the blogosphere continues to swoon over. I just don't get Wavves or Best Coast. Sorry. But these guys, they're alright. The reverb-loving San Francisco garage band knows fuzzy doesn't have to equal grating. There are hooks here, but they're mysterious and a bit elusive, and a healthy dose of '60s psychedelia makes everything nice and dreamy.
See the band live at the Woodsist Festival on July 31 at the Henry Miller Library in Big Sur.
I've discovered more great underground hip hop in the last year than the rest of my life combined, I think. I'm not sure if it's because I'm more open to rap as a genre or if there are just more emcees out there dropping intelligent rhymes. Either way, all hail this old-school Oakland crew, which gets my vote for the ultimate in the Bay Area. "You mean as in 'the best ever'?" Yes.
6. The B Stars

Having been featured in the groundbreaking blog series Why'd You Name Your Band That?, the San Francisco retro country band is almost certainly on its way to big things. But seriously, I really admire the group's sincere commitment to a very specific era of hillbilly music—the late '40s and early '50s, including plenty of Western swing influences—as well as its sometimes cheeky lyrics.
See the band live at 4 p.m. June 18 at Martin Mack's Irish Pub, 1568 Haight St., San Francisco.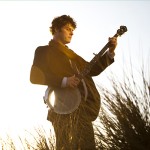 7. Mark Growden
A fixture of the Bay Area's experimental jazz scene and a composer of theater and dance music, Growden lately has been trading in his saxophone for accordion and banjo—focusing on dark, spectral explorations of roots music. His latest album includes traditional folk songs, Americana interpretations of Bruce Springsteen and Aretha Franklin, and original compositions. All of that sounds like it was specifically designed to pander to my personal tastes, but what I like most about Growden is his surprisingly robust, expressive voice.
[A four song sampler is available in exchange for an email address on markgrowden.org.]
See Growden live at 9 p.m. Saturday, May 27, at The Starry Plough, 3101 Shattuck Ave., Berkeley.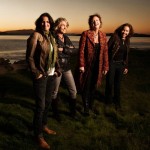 8. Blame Sally
What's most surprising about this Bay Area band isn't that it's an all-female group or that its youngest member was in her late '30s when they decided to quit their day jobs and focus on music. It's that they can make mature, adult alternative rock sound this good. Their new single features the lyrics "sweet and sour at the same time / mink and a porcupine / speeding ticket and a valentine," and it might as well be a metaphor for all the band's contradictory influences. (An online bio mentions everything from Patty Griffin to Pantera.)
See the band live at 6:30 p.m. June 5 at a house concert in Sunnyvale. Click for details.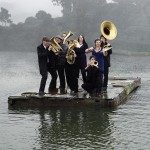 This band made a lot more sense once I figured out "Menažeri" is pronounced "menagerie." Sure, they're blatantly cashing in on the whole "Balkan brass" craze that's sweeping the nation, but nobody is having a better time bringing Old World modal scales and complex, Roma rhythms to a modern audience. Besides, nothings says "party" like a rotary flugelhorn.
I haven't come across many Bay Area bands that I feel would fit in among Detroit's garage-rockin', blue-collar indie scene, but I feel like Shannon and the Clams would be right at home in the Motor City, sharing a stage at the Magic Stick with Detroit Cobras, another band that blends old-school R&B and punk with powerful female vocals. (Maybe the bands already have done shows together? It wouldn't surprise me. If not, let's make it happen, guys!) I wasn't immediately sold on the Oakland trio, but all the ooga boogas, retro reverb and, above all, a sense of bewildering fun soon won me over.
[free download via The Bay Bridged]
See the band live at 8 p.m. June 11 at The Knockout, 3223 Mission St., San Francisco.
Honorable Mentions: The Downer Party (whom I just added to the iTunes library despite having enjoyed the band on CD for the past few months) and Grand Lake (which is no longer technically a Bay Area band but gets points for its name). UPDATE (06.07.11): Oh, and I totally forgot about Foxtails Brigade.