Racking Up Plays: "Live it Up" by Nobunny
These are the posts where I gush about some song that I've got a huge crush on at the moment, and you put up with it and listen because you're a good friend.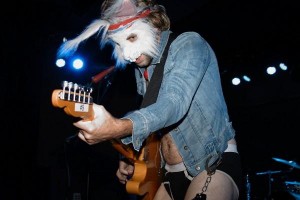 "Live it Up," Nobunny
Disconcerting rabbit masks are hardly a new innovation. From Donnie Darko to videos for Stone Temple Pilots and Mates of State, astute pop culture observers have seen all sorts of characters don freaky lagomorphic outfits. None of them rock quite as hard as Oakland's Justin Champlin, however, who performs garage punk under the nom de guerre Nobunny.

The bunny getup is only one small part of the appeal, assuming you find that sort of thing appealing. This is one man-rabbit who also knows how to write a fine wad of bubblegum pop; roll it around in all the snot-nosed, low-fi, noisy fun of garage rock; and chuck it at your face. The energetic pop-punk of Jay Reatard is the most obvious comparison, and one Nobunny is probably tired of hearing. Then again, Jay didn't wear a bunny mask, and Nobunny is still alive. It's pretty easy to tell them apart
Nobunny isn't in a rush to die, and he flat-out says so in the lyrics to "Live it Up" off his 2010 LP First Blood. There are places to see, girls to talk to, Neil Young to quote. The song is a classic, middle-fingered salute to money, marriage and everything else The Man says is important, surrounded by snappy riffs and good-ol' loud-soft-loud dynamics. Live for the moment, because the party's over in less than two and a half minutes.
[free download via Popstache]
I'll be attending Nobunny's Noise Pop show on Friday. Won't you join me? It's at 9 p.m. at Bottom of the Hill, 1233 17th St., San Francisco. Doors open at 8 p.m. Also performing: Battlehooch, Exray's and The Downer Party. Tickets are $12 and still available as of this moment.