Rankstravaganza: Five Great 2021 Albums (+ Two EPs) by Oakland/East Bay Musicians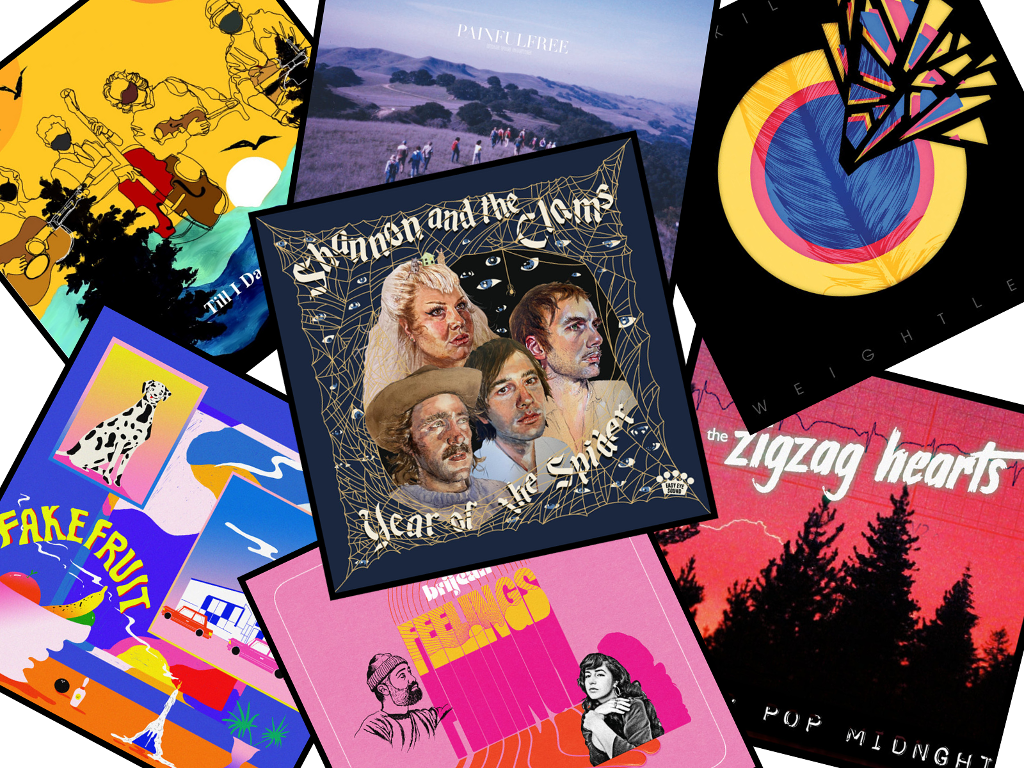 I miiiiight have mentioned it before, but Bandcamp Fridays have been a great excuse for me to reconnect with local music over the last 22 months. (And, frankly, kudos to the engineers and developers at Bandcamp, who designed the website to be super useful and functional when it comes to drilling down into a local scene, and were even thoughtful enough to include Oakland among the 35 cities worldwide featured in the main location filter.)
Throughout 2021, I sampled songs by dozens of Oakland-based bands and musicians. In fact, there was so much music to explore, I didn't really even have time to delve into whatever is going on over in the West Bay, if they even have any musicians who can still afford to live over there.
Each of the recordings featured below had one track featured among my 30 Favorite Songs of the year, but these full-length albums and EPs were strong all around, with multiple standout tracks. I thought they deserved a little more recognition.
This was the first recording from the Oakland husband-and-wife team in five years. I was a big fan of 2012's Medea Cycle, and they once again turned to Classical Mythology. I read up on Procne & Philomela, and yikes that's a ghastly tale. Rape, mutilation, infanticide, cannibalism. Somehow the band turns it into an uplifting rock opera about the bonds of family and moving beyond trauma. The work debuted as a live theater production at San Francisco's Z Space in 2018. The album version was released three years later in advance of a concert film directed by Tamilla Woodard for New York City's WP Theater and recorded at Cal Shakes' Bruns Amphitheater.
The vibe of this eponymous debut—although Hannah D'Amato has fronted versions of the rock band since 2016 in New York and Vancouver before finding home (as one does) in Oakland—is a bit like that one friend of yours. You know the one. Full of energy, endlessly fun, a bit off-kilter, always memorable, and you're never quite sure whether they're fucking with you or not. Sound-wise, it's driven by jittery guitar riffs and half-spoken vocals, with certain tracks veering clearly into garage, post-punk, and art-rock territory.
Ah, here's another Oakland couple whose domestic arrangement (and probably sheltering-in-place together) led naturally to a musical collaboration. Vocalist/percussionist Brijean Murphy and producer/multi-instrumentalist Doug Stuart have made an album that's imminently listenable, with one track flowing into another as naturally as one drink leads to the next at an endless mimosa brunch. It's definitely dance pop but also kind of jazzy, kind of lounge-y, kind of bleep-bloopy, kind of Latin, always sunny, and—according to the Chronicle—packed with 26 different percussion instruments.
The Bay Area has long had a reputation as a haven for people looking to escape from stifling hometowns, and it seems like that's true of Texas native Von Gonten. The Oakland singer-songwriter told The Bay Bridged that his new album was partially about coming to terms with a conservative upbringing: "A lot of my music, and particularly Painfulfree, is about the process of letting go of ideas that you were built up on. Even if they really are wrong, letting go can really mess with your head." The sparse, semi-acoustic arrangements provide a wide-open backdrop for Von Gonten's lilting voice to slip in and out of falsetto. And overall, it just sounds great—immaculately produced by Adam Hirsch of Tiny Telephone.
I can't possible provide a better elevator pitch for Oakland's preeminent retro-garage-punk-psycho-doo-wop quartet than Zack Ruskin did in his write-up of the group's first full-length album in three years: They are "the group you want to play the prom following a zombie apocalypse." Recorded with Dan Auerbach in Nashville, there's still plenty of the zany energy the group is known for—it is called Year of the Spider, after all—but there's also a lot of just great pop songwriting. And the lyrics tackle some serious topics: displacement, grief, fear, vulnerability, and, ultimately, hope. In other words, it's the perfect album for all of us who made it through 2021.
And also, here are two great EPs…
Folks, do you like power pop? This is some quality, traditional, Oakland-based power pop!
Folks, do you like bluegrass? This is some quality, traditional, Alameda-based bluegrass!
And for the record …
My five favorite albums of 2021 from locales other than the east bay are:
3. Take the Sadness Out of Saturday Night, Bleachers