Rankstravaganza 2017: My Top 30 Songs of the Year
Even the shittiest of years can produce moments of musical transcendence. The tumult of 1968 gave us Johnny Cash at Folsom Prison, Sweetheart of the Rodeo and Bookends, for starters. Stephen Foster probably wrote some pretty melody or other in 1861. And in 2017, there were these 30 songs that I fell in love with. Some are firmly rooted in the current alternate-timeline nightmare that, somehow, no time traveler has managed to yet fix. Some just have a good beat and you can dance to it.
As I always make a habit of pointing out, my rankings are semi-objective, based on the number of times that I actually played a track plus a convoluted handicapping system to give a boost to songs released later in the year. This year, the shameless pop song that caps this list would have been No. 1 with or without the assist. And I have to own that. I mean I do. I am proud to put out this list with that song at the top. Blast it with the car windows down.
30. "Freeze Me," Death From Above
First off, there's the story of how Death From Above finally dropped the "1979" from its name. It involves "Freeze Me" and an ice cube tray, and it is glorious. It's everything we've come to expect from the snotty Toronto dance-punk duo. So is this song. DFA has always been all about heavy riffs undergirded by vaguely disco-inspired beats, and the band clearly sees no reason to switch up the formula at this point—two albums into a well-received reunion.
29. "Evermore," Grandaddy
The death of Grandaddy bassist and San Jose native Kevin Garcia certainly didn't get as much press as Tom Petty's or even Hüsker Dü drummer Grant Hart's, but it was tragic in its own right. The indie rockers from Modesto had just released their first album since splitting in 2006. This song turns out to be a fitting elegy, with a relentless beat and plenty of the space-rock atmospherics that define (defined?) the band. It's also probably the best musical shout-out that the City of Stockton is ever going to get.
28. "What It Means," Killer Whale
The San Francisco band keeps it smooth on its sophomore full-length, with layered falsetto harmonies and an easy-going groove. If you dig this, listen to the entire Casual Crush album on Bandcamp—the whole thing is like setting sail on a relaxing ocean of sweet, soulful indulgence.
27. "The Underside of Power," Algiers
Is rock 'n' roll still capable of being cool? Algiers says "yes." The experiemental Atlanta band makes dark and furious songs that sound like some '60s soul music fell through a temporal anomaly so that it exists simultaneously in the future and past.
26. "Second One To Know," Chris Stapleton
Just a few short years ago, if you'd told me I'd genuinely enjoy a track from the CMA Awards' Album of the Year, I would have scoffed and given a haughty eye roll. That it came to pass is either a sign of my relaxing pretensions or mainstream country's expanding range—or both. At any rate, Stapleton can write a heckuva blues-rock stomper.
25. "Fruitflies," Gabriel Garzón-Montano
I'd like to say I've been waiting for Garzón-Montano's debut studio album ever since Drake sampled the Brooklyn singer-songwriter for "Jungle," but fact is I just stumbled across this song on recommendation from, I dunno, NPR maybe? Between his sweet vocals and burbling sythns, this is the best approximation of '70s Stevie Wonder you'll find outside of Talking Book.
24. "Listen Up," Nicole Atkins
Up until now, Atkins was mainly known as a Roy Orbison-inspired, folk/indie rocker. For her latest album, the Nashville-based singer kicked it up an notch and landed firmly in retro-soul territory. This single showcases an impressively vocal range that at times recalls the rough edges of Janis Joplin, the expressiveness of Irma Thomas, and, dare I say it, a touch of Aretha attitude—all backed by tip-top, southern-fried production.
23. "Growing Up," Deb Talan
After a decade of playing in the folk-rock duo The Weepies, Talan released her first solo album in more than a decade. This song is equal parts relentless, tender, and bittersweet—kind of like the subject matter. The song gets by on the strength of this simple couplet alone: "And Daddy will take down 'Peter Pan' from the shelf, and he'll read it out loud, though you could read it yourself."
22. "Teeth Of The Beast," Everyone Is Dirty
There are a surprising number of songs about Dock Ellis, the pro ballplayer who allegedly pitched a no-hitter while tripping on acid. Oakland rock band Everyone Is Dirty's tribute might be the one that matches Ellis' public persona the best: fierce, uncompromising, and a little bit nuts. I mean, just look at the artwork for this thing. It's a freakin' saber-toothed hydra!
21. "Sonny Boy," Randy Newman
Did you by any chance need a reminder that 74-year-old Newman is one of the masters of the story song? Because here you go. It's the only-slightly-embellished true story of an influential Chicago blues artist who had his identity stolen by an impersonator. As usual, Newman tells the tale with impeccable wit and humor, unexpected twists, and a classic ragtime arrangement—bookended by a framing device that imagines Sonny Boy No. 1 as "the only bluesman in heaven."
20. "Anymore," Goldfrapp
Dark, dirty, sexy, glam ectro-pop. This is what we've come to expect from the London duo after 17 years, and they continue to deliver.
19. "Everything Now," Arcade Fire
OK, I get that a lot of people haaaate the new Arcade Fire album. They feel like the band has devolved into a mess of joyless, obvious cynicism accompanied by tone-deaf marketing campaigns. To that, I have three words for you: Pan. Flute. Outro. Or at least something that's supposed to sound like a pan flute. The track credits just say "flute." Whatever. I like the song. No, you shut up.
18. "Thank You Mr. K," Ty Segall
Who is Mr. K? Doesn't matter. All you need to know about this song—one of the more raucous offerings from what is generally a melodic, Beatles-eque album from the prolific, former San Franciscan madman—can be found in this screenshot of the lyrics:
17. "Want You Back," Haim
Boy howdy, a lot people disliked the Haim sisters' sophomore album, too. The best compliment that Steven Hyden (a reviewer I admire) could come up with for one of the tracks he liked most was "avant-garde waiting room music." I don't know if this single is as good as the highlights from "Days Are Gone," but it's still a dang good, melancholy pop song.
16. "Get Happy," Sam Cohen
What better theme for 2017 than an order to cheer up and prepare for the apocalypse, taken from the soundtrack to a nightmarish alternate reality where the United States is run by fascists? Brooklyn singer Coehn and über-producer Danger Mouse curated an entire set of eerie early-1960s covers by modern artists as a musical supplement to Season 2 of Amazon's "The Man in the High Castle," meant to evoke a familiar-but-not-quite-right feeling. Even with contributions from Beck, Norah Jones, Karen O, Sharon Van Etten, and Grandaddy, it's Coehn's boogie-woogie hymn that emerges as the highlight of Resistance Radio.
15. "Never Been Wrong," Waxahatchee
Got a Waxahatchee flow chart for y'all: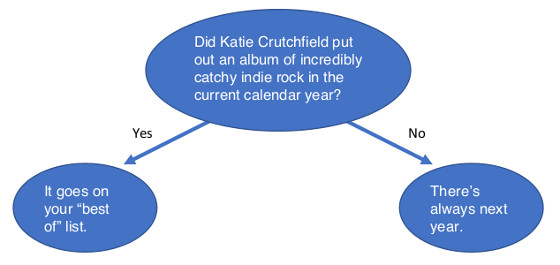 14. "Goose Snow Cone," Aimee Mann
Goose is the name of a cat that Aimee Mann knows. The overall thrust of this acoustic ballad—depression, loneliness, isolation … the usual Mann touchstones—comes across loud and clear, but that title and opening line remain a little inscrutable unless you don't know the story behind it. Mann not only kept it but began her whole album with it. That takes guts as a songwriter.
13. "Same Dark Places," JR JR
What if "Everybody Hurts" was a bouncy indie-pop jam full of synth horns? The Detroit duo (formerly Dale Earnhardt Jr. Jr.) answer the question that no one was asking.
12. "Hope the High Road," Jason Isbell and the 400 Unit
My playlists this year were smattered with musicians trying their best to make sense of the current political climate. Three albums into his solo-career renaissance, the Nashville singer-songwriter offers a hot take that captures all the disillusionment without falling into despair. "There can't be more of them than us." Dang. Hope you're right, buddy.
11. "First Caress," Spoon
The Austin band tried incorporating some more electronic elements and a sexy swagger for their ninth album, but at the end of the day, "First Caress" sounds like a Spoon song, and that ain't a bad thing. Also, this might be my favorite lyrics of the year: "Coconut milk, coconut water, oh oh. You still like to tell me they're the same. Who am I to say?"
10. "You Don't Scare Me," Whitney Rose
First, the songwriting. It's simple but impeccable. "You can't break my heart because it's already broken?" That's the bones of a timeless country ballad if I ever heard one. Rose, who hails from Prince Edward Island but sings straight outta a 1950s South Texas honky-tonk, fleshes it out to perfection.
Second, all that tremolo. Soooo good. (The album was produced by Raul Malo of The Mavericks, who SPOILER ALERT shows up below.)
9. "Magic," Nelly Furtado
Canada's second-most adorable pop professional put out a new album, and it was all around pretty decent pop music. This tune, however, rises to a whole new level once it gets to the coda, then it kicks it up another notch.
8. "Westermarck," Charly Bliss
Like classic Weezer (albeit with a pixie-voiced frontwoman), New York City band Charly Bliss knows how to build the sweetest of power-pop hooks out of grungy guitars. I'm primed for a full-fledged '90s nostalgia revival, with this group at the forefront.
7. "Ballad of the Dying Man," Father John Misty
It took a lot of work for me to get past Father John Misty's misanthropic persona. Or John Tillman's actual personality. Whichever. But it sure is easier to stomach lines likes "Eventually the dying man takes his final breath, but first he checks his newsfeed to see what he's gonna miss" when its accompanied by a gorgeous piano ballad that sounds like an outtake from Madman Across the Water.
6. "Grey's End," Timothy Monger
Tim was one of three songwriters that helped make Great Lakes Myth Society the greatest band of all time. The final track from his third, full-length solo outing offers a triumphal conclusion to what is often a forthright meditation on melancholy and depression. The bridge should make any heart soar to a land "where there is no grey at all!"
5. "Not Dark Yet," Shelby Lynne & Allison Moorer
Sisters Shelby Lynne and Allison Moorer both found success as Nashville semi-outsiders. Between them, they'd put out 22 albums, but none of them so much as featured a sibling guest spot. The pair finally put out a full album of duets, featuring nine covers and one original. They made this Bob Dylan tune the title track, and hearing female voices sing "My sense of humanity has gone down the drain" sure seems to capture the spirit of dark times.
4. "This Is The World Of The Theater," The New Pornographers
I think it's hard for me top this tweet about this deep cut from the Canadian indie supergroup's seventh album.
Top-form @TheNewPornos: lyrics that could mean nearly anything; lilting @NekoCase vox; and hooks, hooks, hooks! https://t.co/faPm7D23DY

— ???? ???? All the City Lights ???? ???? (@ATCLMusic) May 22, 2017
It only got one like, but that one like was from NEKO FREAKIN' CASE.
3. "Rain in Soho," The Mountain Goats
Most of John Darnielle's concept album about goth culture doesn't sound much like goth music. The opening track is an immaculately produced, minor-key portrait of the London neighborhood that served as the nexus for the emerging scene in the 1980s, centered around the Batcave nightclub. The MVP here, other than Darnielle's always-excellent songwriting, is the Nashville Symphony Chorus, whose members provide lots of ominous, moody texture.
2. "Easy as It Seems," The Mavericks
Some of the political statements on this list are more overt than others. You might miss this song's message between all the Latin rhythms and playful chromatic shifts, but when Raul Malo asks "Do you wanna get mean? Do you wanna get cruel? Do you think it's wise to play the fool?" he's talking directly to the President.
Formed in Miami in 1989, The Mavericks have been mixing neotraditionalist country, western swing, Tejano, and other genres into a blend of Pan-Americana. When I stumbled across them this year, they sounded awfully familiar, but I couldn't quite place it. Then I remembered that I actually interviewed Malo back in the mid-2000s when I was an entertainment reporter. I should have been following him ever since. Looks like I've got 30 years worth of back catalog to go through in 2018.
1. "Cut To The Feeling," Carly Rae Jepsen
I listened to no other song released this year more than the latest single from Canada's most adorable pop professional. I would like to blame this fact entirely on my 4-year-old daughter. The truth of the matter is that every time she made me play the song for her, I was singing and sometimes dancing along. There's no denying that a ton of songcraft and production went into this track. So here we are. And I'm not the only ostensibly mature adult who unabashedly loves "Cut to the Feeling." Just look at Indiewire's David Ehrlich, who wrote a fine, indignant essay in which he called the fact that the song is not eligible for an Oscar "an unforgivable justice."