Rankstravaganza 2016: My Top 30 Favorite Songs of the Year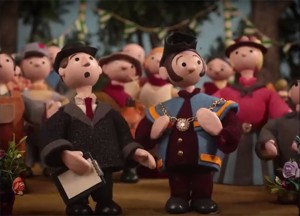 Like many of you, I read an awful lot of dispiriting, confounding news stories this year. For me, it was usually while I was riding a crowded bus on my way to work in downtown Oakland. Sometimes I'd look up from my phone and take a look at all the diversity—the mingling and mixing of cultures, ideas and ideals—that is one of Oakland's great strengths. And then I'd look down, read another depressing headline, and furrow my brow.
The soundtrack for this push and pull between hope and gloom was the songs below, one of which was usually playing on my earbuds. It contains a fair amount of mixing and mingling, as well as a few political songs expressing outrage and protest.
Regrets? I wish there was some more local music on the list (which I always determine based on the actual number of plays I logged throughout the year). As it is, there is a single San Francisco act below. My new year's resolution is to make a better effort to explore Bay Area artists in the next 12 month.
Without further ado…
30. "Life Pass," Diarrhea Planet
OK, so maybe I am sliiiightly ashamed to have a band that decided naming itself Diarrhea Planet was a good idea leading off my list. But I am not the least bit embarrassed that this slab of arena rock—which seems to have sprung, fully formed, from that alternate universe Bill Tuomala wrote about where Van Halen was an influential, critically acclaimed band with a cult following—made the cut. Hails from: Nashville.
29. "Air," Astronoid
At least we can say that we inhabit a reality where "dream metal" is a genre that exists. Does it make sense for a song to have both blast beats and ethereal harmonies? No, not exactly, but a lot about 2016 didn't make any fucking sense, and Astronoid has the advantage of not being a total bummer. Headbang into hope. Hails from: Boston.
28. "Empty," Garbage
How does Garbage keep working its way onto these lists of mine? Circa 1995, I could blame it on a teenage crush on Shirley Manson, but now I think I just have a thing for grungy, morose, textured pop-rock. Hails from: Well, Wikipedia says Madison, Wisconsin, but I'm pretty sure everybody spends the majority of their time in L.A. nowadays.
27. "Everyday," Modern Baseball
See? Grungy, morose, textured pop-rock. Told you so. One of the pleasant surprises of 2016, after all that dang synthpop last year, was a revived interest in bands that play guitars and know how to put them to use building the foundation of songs that are simultaneously coarse and sweet. Hails from: Philly.
26. "Frankie Sinatra," The Avalanches [feat. Danny Brown & MF Doom]
My greatest failing of 2016? Probably the fact that I never got around to listening to The Avalanches' first album of sample-weaving madness in 15 years in its entirety. In my imagination, this song fulfills the same role that "Frontier Psychiatrist" did on the electronic duo's first album: the oddball single with something approaching a hook. Built on an old calypso recording and an oompah bassline, "Frankie Sinatra" carefully treads that line between annoying and amusing, yet I kept returning to it in all its repetitive, hypnotic charm. Hails from: Melbourne, Australia.
25. "About to Find Out," Margo Price
The title of Price's debut, Midwest Farmer's Daughter, is a winking acknowledgement of just how much the rural Illinois native is carrying on the tradition of Loretta Lynn, not to mention other '70s female country icons including, but not limited to, Dolly Parton and Emmylou Harris. You like them, you'll like this. Simple as that. Hails from: Nashville by way of Aledo, Illinois.
24. "Sundial," Cool Ghouls
Every time these guys come back across my radar, I find myself more enthralled. They just get better and better. It's hard to deny the influences at play here—the jangle of The Byrds, the harmonies of The Zombies—and harder to resist their charms. In fact, I'm not sure why this song didn't end up higher in my listen-based rankings. Excuse me while I listen to it another 10 times in a row. Hails from: San Francisco.
23. "As It Is," Ages and Ages
If you, like me, enjoyed the band's 2014 sophomore album—or if you just like big, earnest, Polyphonic Spree-style singalongs and handclaps—this track offers more of the same. Hails from: Portland, of course.
22. "Moai Y Yo," Maria Usbeck
It doesn't get any more chill than this track (at least on this list). Recognizing her identities as both an Ecuadorian native and the former frontwoman of a hip indie band, Usbeck fuses dream pop with Latin rhythms. The result sounds like the soundtrack for someone's impossibly cool, undeniably sensual travelogue across South America. Hails from: Brooklyn, by way of Quito.
21. "Closing Argument," Into It. Over It.
Apparently there's an underground emo revival afoot, and apparently I've been listening to and enjoying some of its leading figures without realizing it. If this track is any indication, Evan Thomas Weiss' solo project is fairly laid back and, thankfully, free of histrionics. Frankly, "revival emo" sounds a lot like solid, thoughtful, melodic pop-rock. Hails from: Chicago.
20. "Door," Nice As Fuck
Hey, looks like Jenny Lewis can do post-punk just as deftly as alt-country. Fronted by the indie icon, this all-female trio rides along relentless basslines and dry drums. There's no mistaking what they're going for, and they hit the mark. Hails from: We're going to assume L.A.
19. " We the People … ," A Tribe Called Quest
Was there a better musical punchline all year than when this track screeches to a halt and Q-Tip deadpans, "… the ramen noodle"? That alone would make this track worth the price of admission. But then there's that glorious, head-nodding beat and the all-too-timely lyrics protesting gentrification and/or Trumpism. Coming right on the heels of the election, Tribe's improbable final album offered an outlet for some of the disappointment, confusion, and anger that followed, as well as a fitting tribute to Phife Dawg. R.I.P. and thank you for your service. Hails from: Queens, but you knew that, right?
18. "Harmless," Amanda Shires
Shires turns a simple tale of a dive-bar encounter into a quiet, haunting snapshot full of striking detail and imagery. The chorus asks where the line lies between flirting and infidelity, but Shires' wavering voice tells us everything we need to know about whether her character crossed it. I like to imagine her real-life hubby Jason Isbell hearing this song for the first time and thinking, "Dang, I'm really going to have to up my game on my next album." As long as they keep serving as each others' muses, we all win. Hails from: Nashville via Lubbock, Texas.
17. "Berlin Got Blurry," Parquet Courts
Incisive lyrics about drunken self-consciousness abroad notwithstanding, this song really boils down to two things: singer Andrew Savage's droll vocal delivery and that spectacularly simple, jittery guitar riff. Hails from: New York City.
16. "Walk Away Renee," Sean Watkins
Well, it wouldn't be one of my lists if at least one member of Nickel Creek wasn't represented, would it? I've been following The A.V. Club's Undercover series since the beginning, and it has included some truly gorgeous covers—Wye Oak's version of The Kink's "Strangers" and Manchester Orchestra's version of Faces' "Ooh La La" spring to mind—but none of them has ever managed to crack my year-end rankings. Watkins managed the feat by giving the stripped-down, acoustic treatment to a one-hit-wonder from the '60s. The original's lushness survives in the soaring melody, but Watkins earnest delivery gives a jolt to the lyrics—which, let's be honest, just slipped on by every time you heard them on AM radio—so that they demand your attention. Hails from: SoCal.
15. "On the Lips," Frankie Cosmos
You should listen to this song before I reveal that Frankie, real name Greta Kline, is [SPOILER ALERT!] …………………. the daughter of Kevin Kline and Phoebe Cates. I, myself, learned this only seconds ago (thanks, Wikipedia!). Before you knew this information, this was a pretty cool song, right? Now it's cooler. Admit it. Hails from: New York.
14. "No Problem," Chance the Rapper [feat. Lil Wayne & 2 Chainz]
OK WE GET IT! You're not signed to a label and never will be and that's your narrative. But daaaaang if this isn't a pleasurable listen. In fact, Chance's whole mixtape is pure magic. More gospel influences in my rap music, please! Hails from: Chi-town.
13. "Fill in the Blank," Car Seat Headrest
Can 20-something ennui about life and meaning and drugs and regrets and self-loathing accompanied by electric guitars still be not just tolerable but exhilarating? In 2016? Damn straight it can. Will Toledo's chord structures, simple as they are, have a way of rising just when you expect them to fall. And I cannot get enough of the bridge of this song, as it just builds and builds and builds. Hails from: Seattle by way of Leesburg, Virginia.
12. "Come Down," Anderson .Paak
Chance and Anderson here were going neck and neck for the coveted honor of being the top-ranking rapper on a list by some aging white dude, but Mr. Unnecessary Punctuation won out in the end. (And, to be honest, six months from now, both are probably going to be dwarfed by A Tribe Called Quest in the play-count department.) Anyhoo, what was I going to say about the champion? Oh yeah. "You drank up all my liquor, come on, what I'm supposed to do now? And you talking all that shit, now come on, you gonna have to back it up." That's just genius. Hails from: Oxnard? Oxnard.
11. "Pirate Dial," M. Ward
Every time I'm ready to write of ol' M., he comes back with something new that makes me take another look. I had just finished rolling my eyes over another She & Him Christmas album when he released this bit of hushed beauty. Well played, sir. I'm back on board. Hails from: Portland.
10. "Ramon Casiano," Drive-By Truckers
Not only is this a classic Cooley shitkicker, it has a fascinating back story that—as all great DBT songs do—combines history, myth, and political commentary. Ramon Casiano was the name of a young Mexican boy who was murdered in Laredo, Texas, in the early 1930s. Fifty years later, journalists uncovered that NRA Executive Director Harlon Carter had been convicted of the murder as a teenager but never served any time. It was under Carter's direction that the NRA transformed from an organization that promoted training, safety, and marksmanship for sport into the political lobbying powerhouse that it is today, and Cooley has nothing nice to say about the guy or the group's modern membership.
He had the makings of a leader
Of a certain kind of men
Who need to feel the world's against 'em
Out to get 'em if it can
Men whose triggers pull their fingers
Men who would rather fight than win
United in a revolution
Like in mind and like in skin
Yowza. You tell 'em, Cooley. Hails from: Athens, Georgia, by way of Muscle Shoals.
9. "If You Should See," Wye Oak
Wye Oak's previous album marked an about face for the duo, featuring a lot more synthesizers instead of Jenn Wasner's fiery electric guitar and an overall lighter tone. The album they put out this year, Tween, comprises songs that were written while the band was making this transition, and it's a seamless union that showcases all the best aspects of both phases. This song absolutely shimmers, like a forgotten hit from the '80s. Hails from: Baltimore.
8. "333," Against Me!
Laura Jane Grace just continues to pump out fantastic pop-punk. There are so many great melodies on Shape Shift With Me, an album-length meditation on the ever-poplar topics of relationships and rejection, it's hard to choose just one to highlight. This track's singalong chorus might be the most memorable of the bunch. Hails from: St. Augustine, Florida.
7. "Me & Magdelena," The Monkees
This sounds a lot more like a Death Cab for Cutie song than anything The Monkees recorded in the '60s, and with good reason: It was penned by Ben Gibbard for an album marking the band's 50th anniversary. Michael Nesmith and Micky Dolenz's voices blend in some sumptuous harmonies as they sing about some of Gibbard's favorite topics: driving in Monterey and falling in love. Hails from: Can we really say The Monkees "hail" from anywhere?
6. "If I Ever Was a Child," Wilco
The 10th album by America's national dad-rock treasure was a surprisingly hushed affair, full of lots of acoustic guitars and Jeff Tweedy practically whispering the melodies. The second track is the prettiest of the bunch. Hails from: Chicago.
5. "Aunt Peg's New Old Man," Robbie Fulks
When we saw Fulks in Berkeley back in June, he explained that this song was loosely based on true events. When he was a teenager, he did go to visit his elderly, widowed aunt and her new paramour. He did try to get out his banjo and impress them with his bluegrass picking, which they pooh-poohed as too modern. Much of Fulks' latest, (finally!) Grammy-nominated album is bleak and contemplative. This is not. It's a raucous bluegrass jam with a well-delivered punchline. Hails from: Chicago again!
4. "Hey You," The Thermals
Hutch Harris set out to write an album full of unabashed, '90s-style alt-rock. Mission accomplished! Hails from: Portland, Oregon.
3. "Old Friends," Pinegrove
Everything else in the Top 10 is an act that I was already well familiar with and a fan of. Pinegrove was my new discovery. Mixing emo and alt-country could be an awful, disastrous idea. Evan Stephens Hall not only pulls it off, he does so with grace and without gimmickry. This is a song that sneaks up on you and works its way quietly into your heart. Hails from: Montclair, New Jersey.
2. "Longer," Lydia Loveless
Meanwhile, Lydia Loveless has been dialing down the twang in her brand of alt-country and dialing up the pop influences. What hasn't changed is the lovelorn, acerbic character that defines her writing and vocal delivery. Just listen to the way she half-cries, half-sneers about getting drunk in a bar, "talking about my plans to anyone who can hear over the sound of this shitty Indianapolis band." Zing! Hails from: Columbus, Ohio.
1. "Burn the Witch," Radiohead
My 3-year-old daughter likes songs she can relate to. The Runnaways' "Cherry Bomb" became her favorite song because it was, as far as she knew, about cherries. She similarly latched onto the opening track to Radiohead's ninth album because I told her it was about a witch. Lately, she's started asking me why it's called "Burn the Witch," specifically. I usually tell her it's a metaphor for blaming other people for your problems. I usually don't get into the song's supposed allusions to far-right nationalism and anti-immigrant sentiment.
It's possible that my daughter's frequent requests to listen to "the witch song" helped it to leapfrog over Lydia Loveless in the play-count rankings, but I'm glad it came out at No. 1. Radiohead has always been a prescient band, adept at capturing the zeitgeist before anybody else has figured it out, and "Burn the Witch" really managed to capture 2016 in all its awful, horrifying glory. The past year was nothing if not a "low-flying panic attack" where gallows were cheered, eye contact was avoided, messengers were shot, and reason was abandoned
And here, now, on the first day of 2017, we're right at that part in the song where the strings have devolved and crescendoed into a dissonant, cacophonous, screeching finale. And in the silence that follows, you're left in terrible suspense, wondering what possibly could be coming next.
HAPPY NEW YEAR, EVERYONE!