The Annotated Decemberists No. 11: Odalisque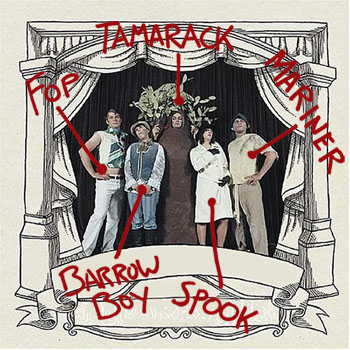 Perhaps no band's lyrics better lend themselves to pseudo-academic analysis than those of The Decemberists. The Annotated Decemberists is an attempt to puzzle through the Portland, Oregon, group's entire catalog song by song—examining all the obscure vocabulary, historical references and poetic subtext—or go crazy trying.
As we shall see, from the title, we can gather that this is a song about a concubine, or at least a woman treated like a metaphorical concubine. Few other clear details are provided. There are indications that the woman understandably does not appreciate her status as a sex slave, and that she came to her station by way of being born into ramshackle poverty. Her situation does not improve by the end of the song. It is a more serious, consequential and therefore less problematic take on a subject explored in the album's previous song, "A Cautionary Song." Musically, it is also the first indication that the band was capable of some epic prog-rock, the sort that The Decemberists would begin to really explore on The Crane Wife.
They've come to find you, odalisque[1]
As the light dies horribly[2]
On a fire escape[3] you walk
All rare and resolved to drop
And when they find you, odalisque
They will rend[4] you terribly
Stitch from stitch 'til all
Your linen limbs[5] will fall
Lazy lady
Had a baby girl
And a sweet sound it made
Raised on pradies[6]
Peanut shells and dirt
In the railroad cul-de-sac[7]
And what do we do
With ten baby shoes
A kit bag[8] full of marbles
And a broken billiard cue?
What do we do?
Fifteen stitches
Will mend those britches[9] right
And then rip them down again
Sapling switches
Will rend those rags all right
What a sweet sound[10] it makes
And what do we do
With ten dirty Jews[11]
A thirty-ought[12] full of rock salt
And a warm afternoon?
What do we do?
Lay your belly under mine
Naked under me, under me
Such a filthy dimming shine[13]
The way you kick and scream[14]
And what we do
With ten baby shoes
A kit bag full of marbles
And a broken billiard cue?
What do we do?
Lazy lady
Had a baby girl
And a sweet sound it made
Exegesis Manifest
(↑ returns to text)