Rankstravaganza: My 15 favorite albums of 2012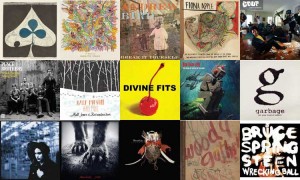 Late, late, late. Here we are, one week into 2013, and I'm still posting postmortems on the music of 2012. And I used to be so good at meeting deadlines.
I'm sharing this anyway, because I think the albums on this list are deserving of more recognition, wherever they can get it. The No. 1 album, in particular, didn't get nearly enough love form critics, despite the fact that the band was also featured at the top of both my mid-year and year-end lists of best songs. In fact, once again, there's not that much difference between the bands featured on My 30 Favorite Tracks of 2012 and this list. What can I say? My favorite albums contain my favorite songs. Go figure.
Still to come: I might publish a list of my favorite tracks by Bay Area musicians of 2012. It should be up by 2014.
For fans of … Michigan chamber folk, bonfires, Great Lakes Myth Society, six-song albums with one bonus live track and one joke track, sawing cellos and martial drums
14. A Thing Called Divine Fits, Divine Fits
Spoon, Wolf Parade, Spoon + Wolf Parade, indie supergroups, tight grooves, dark New Wave keys
For fans of … the Occupy movement, protest songs, The Boss' The Seeger Sessions album, folk + gospel + arena rock + Celtic music + hip hop + New Orleans brass + everything but the kitchen sink
For fans of … early 20th century American composer Charles Ives' experimental tone poem "The Unanswered Question" (really), messiness, The White Album, funk basslines, multitracked vocals, songs about impotence
11. Break it Yourself, Andrew Bird
For fans of … whistling solos, pizzicato violin, duets with St. Vincent, indie folk at its most adventurous, perfectly pleasant harmonies, Sufjan Stevens, neologisms
For fans of … The White Stripes (duh), guitars (all sorts), The Who, Led Zeppelin, a little bit of folk, a lot of the blues, metaphors that immediately stick in your brain, playfulness, longing, romance, bitterness
For fans of … nature, Arcade Fire, songs that gradually build and add layer upon beautiful layer, indie folk, ambitious arrangements, Andrew Bird, scarves
For fans of … Son Volt (duh), My Morning Jacket (duh), alt-country dream teams, Billy Bragg and Wilco's Mermaid Avenue albums, writing tunes for old Woodie Guthrie lyrics, gazillion-part harmonies, America
7. Not Your Kind of People, Garbage
For fans of … the '90s, reunions, female vocalists, trashy production … um, Garbage
6. Who's Feeling Young Now?, Punch Brothers
For fans of … virtuosity, acoustic instruments, Nickel Creek, stretching the limits of bluegrass, the song breaks between segments on All Things Considered because half the time it's something from this album
5. Sorry to Bother You, The Coup
For fans of … the Occupy movement, political hip hop with a sense of humor, Oakland, hilarious album covers, Das Racist and Killer Mike (who both guest on the final track), dope rhymes, funky beats, eclectic instrumentation up to and including accordion
4. The Idler Wheel Is Wiser Than the Driver of the Screw and Whipping Cords Will Serve You More Than Ropes Will Ever Do, Fiona Apple
For fans of … Percussion, sparse arrangements, coming unhinged, ridiculously long album titles, taking chances, vocal polyphony
For fans of … crazy time signatures, composition, complexity, Animal Collective, music that washes over you, the more lively and direct moments of Veckatimest, bass clarinet
2. The Sound of the Life of the Mind, Ben Folds Five
For fans of … the '90s, reunions, Robert Sledge's fuzzed out bass tones, diminished harmonies, shout-outs to Studs Terkel, rocking like a mother, middle-age ennui, Bacharachian piano pop, nerds and outcasts, Fraggle videos
For fans of … nature as a awesome and brutal force, Okkervil River, distinctively rich vocals, making the jump to Sub Pop, post-"It's My Life" Talk Talk, expansive sounds as big as an Antarctic glacier or the Serengeti, choruses that repeat the phrase "trail of suffering," indie rock that is serious without crossing over into pretension