Rankstravaganza: My 30 Favorite Tracks of 2012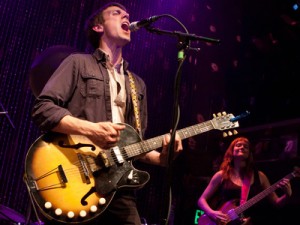 Here is this year's obligatory list-making, by the numbers:
3 Bay Area acts
6 solo female artists
2 re-united '90s bands
A ton of vaguely folky indie rock—no surprise
Just 2 hip-hop tracks—I apologize
1 song that actually got some radio airplay
I make these disclaimers out of habit, I think. In my newspaper days, I'd always get readers complaining that they'd never heard of any of the entries on my year-end lists. I suppose I don't have to worry about that now. But, still, don't feel bad if Adele is the only name you recognize below. The end of December is all about discovering new music. I'm busy pouring over other blogs and publications, marveling at all the great songs that I missed out on. It is truly the most wonderful time of the year for music nerds.
Assuming I'm reading things correctly on her website, it sounds like San Francisco singer/bassist Kate Kilbane wrote The Medea Cycle, a rock opera based on the ultimate "woman scorned" story from Greek mythology, back in 2010, but it wasn't until this year that the full 12-song composition was available on CD. Although it's wrapped in vivid lyrics and pleasing pop melodies—I always get a Ben Folds Five vibe from the music, but maybe that's just because of the instrumentation—it's a fairly faithful telling of an ancient tale of revenge. In this track, the magically gifted Medea is swooping down on the city of Iolcos to kill her brother-in-law so that her husband, Jason (of Argonauts fame), can assume the throne. Needless to say, there isn't a happy ending.
[mp3 available as a pay-what-you-want download via Bandcamp]
Catch Kate Kilbane live at 6 p.m. Jan. 31 at The Trident in Sausalito. Click for details. She'll also be performing at several of Off the Grid's weekly markets in the coming months. Check the calendar.
The Swedish rock band had its final show just one week ago in Stockholm. The group had a mild breakthrough in the United States back in 2002, scoring a Grammy nomination and a spot opening for Oasis on tour, but I missed all that. So I guess I'll have to add TSOOL to the list of bands that I found out about just in time for them to break up. As is often the case, I'm told, this track is a jangly, amalgam of great influences: Think Pink Floyd by way of Drive-By Truckers. Nothing may last forever, but this proves that guitar-driven rock isn't dead yet.
28. "Plant White Roses," Kelly Hogan
Back in college, I interviewed Kelly Hogan for a class project on Chicago's alt-country scene, and I can report that she is just as sweet and charming in person as she sounds on record. Twelve years later, she and her amazing voice finally got some well-deserved national recognition with her fifth album, I Like to Keep Myself in Pain. Here she takes a The Magnetic Fields tune and makes it sound like a classic Dolly Parton torch song.
27. "Battle in Me," Garbage
I've always been an unabashed Garbage fan, so I was happy to hear the group was reuniting, though I kept my expectations for Not Your Kind of People rather modest. While the latest album is a step up from 2005's Bleed Like Me, I doubt I'll be listening to many of its tracks in a year, either. This song, however, has some potential. It has enough dirty-pop energy and grunge-vamp attitude that it would have fit right in on either of the group's first two albums. You know, the classics.
26. "Skyfall," Adele
This is the first Bond theme in a long time that felt important. I suppose it helps if you have the most talked-about singer on the planet, but I think it has at least as much to do with the sound of that 77-piece orchestra recorded at Abbey Road Studios. You can't fake that kind of gravitas.
Much of the Spektor's new album is full of pleasant-enough piano balladry, but on this track the Russian-American singer lets her inner Kate Bush loose. It's mysterious and full of weirdo touches, like mouth percussion (BOOSH!) and lyrics about being in a museum after hours, where masterpieces are locked up and "serving maximum sentences." "It's their own fault, for being priceless," she concludes.
Sometimes, all a song needs is a great lyrical hook. "Hey, turn the record over. I'll see you on the flipside." Simple, straightforward. That, in a nutshell, is the New Jersey band's whole approach to rock. Why mess with the proven, potent combination of backbeat and nostalgia?
Part of me misses the simple, stripped-down, plugged-in folk of the Brooklyn-based singer's earlier work, but Van Etten is getting big enough now that her reputation almost demands a bigger sound. This song delivers it, without trampling all over the things that made her music special to begin with.
22. "Cherry Wine," Nas feat. Amy Winehouse
It would be easy to be overshadowed by the specter of an assist from Winehouse, who recorded this track with Nas during the same 2008 sessions that produced their duet "Like Smoke," featured on her posthumous album Lioness: Hidden Treasures. The fact that he holds his own says a lot about how confident the Brooklyn rapper sounds on his latest album, as he pours out his feelings about the breakup of his marriage and, on this track, ponders whether there's a perfect soulmate somewhere out there.
21. "Dirty Money," Antibalas
These guys are to Afrobeat music what the Dap-Kings are to classic soul—no coincidence, since they're both on the same label and even have a few members in common. The Brooklyn-based orchestra won some acclaim for arranging and producing the music for the Broadway musical Fela! Purists might ask, "Why not just listen to actual Fela Kuti recordings instead of a group that tries its best to recreate that sound?" I think a better question is: Is it funky? Yes. Yes it is.
[mp3 via The Atlantic in exchange for email address]