The Annotated Decemberists No. 3: "My Mother Was a Chinese Trapeze Artist"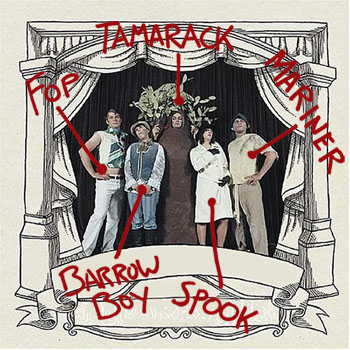 Perhaps no band's lyrics better lend themselves to pseudo-academic analysis than those of The Decemberists. The Annotated Decemberists is an attempt to puzzle through the Portland, Oregon, group's entire catalog song by song—examining all the obscure vocabulary, historical references and poetic subtext—or go crazy trying.
This is the song that started it all. In 1999, Colin Meloy was a recent graduate of the University of Montana whose alt-country band, Tarkio, was quickly coming to the end of its run. As related to Sean Nelson for a detailed article in the Seattle alt-weekly paper The Stranger, "My Mother Was a Chinese Trapeze Artist" was inspired by a particularly awful family canoe trip:
"It was this super, super intense, three-day river trip where we were all just stuck together and it was all just like one constant fight, and everybody was angry at each other for all different reasons.
"I came off that trip with this loathing for my family, and I wrote a song about basically completely re-creating the family in this really fantastical setting, using myself as this sort of sad anti-hero."
Meloy wrote the song as a lark, with no goal in mind other than to make his girlfriend laugh, but it marked a new style of songwriting, full of what would become Decemberists trademarks: fanciful language, vagabond characters and historical references. Tarkio recorded a version, but Meloy continued to play it after moving to Portland and meeting local musicians Jenny Conlee and Nate Query. The rest, as they say, is romanticized history.
"My Mother Was a Chinese Trapeze Artist"
From 5 Songs (2001, re-released 2003)
My mother was a Chinese trapeze artist[1]
In pre-war Paris
Smuggling bombs for the underground.
And she met my father
At a fete[2] in Aix-en-Provence[3].
He was disguised as a Russian cadet
in the employ of the Axis[4].
And there in the half-light[5]
Of the provincial midnight
To a lone concertina[6]
They drank in cantinas
And toasted to Edith Piaf[7]
And the fall of the Reich.
My sister was born in a hovel[8] in Burgundy[9]
And left for the cattle
But later was found by a communist
Who'd deserted his ranks
To follow his dream
To start up a punk rock band in South Carolina[10].
I get letters sometimes.
They bought a plantation
She weeds the tobacco
He offends the nation
And they write, "Don't be a stranger, y'hear."
"Sincerely, your sister."
So my parents had me
To the disgust of the prostitutes
On a bed in a brothel[11].
Surprisingly raised with tender care
'Til the money got tight
And they bet me away
To a blind brigadier[12] in a game
Of high stakes canasta[13].
But he made me a sailor
On his brigadier ship fleet.
I know every yardarm[14]
From main mast[15] to jib[16] sheet[17].
But sometimes I long to be landlocked
And to work in a bakery.
Exegesis Manifest
(↑ returns to text)