Rankstravaganza: My 30 Favorite Songs of 2018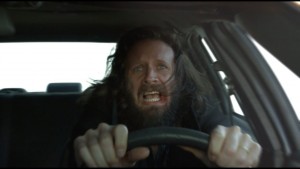 So there I was, walking down Franklin Street in Oakland earlier this year. Carrying an umbrella and my Thai takeout lunch in a paper bag. Skipping merrily along to the jaunty tune playing in my headphones. It was raining heavily that spring day, and just as I passed three 50-something Asian ladies standing in the doorway of a bubble tea shop, I stepped on the metal grate covering one of those sidewalk freight elevators. My feet flew out from under me. My lunch sailed through the air in a beautiful arc and rotation that I'm sure would have looked poignant in slow motion, then landed in a 6-inch-deep puddle. I landed flat on my back. It took a moment for my senses to re-calibrate and make sense of what was going on. First I was aware of the drops of water now pelting me in the face as my umbrella lay yards away. Next I registered the gasps of horror on the faces of the three ladies. And then, slowly, my brain began to process the music still playing in my ears:
Everything, everything, everything, everything, everything is awful!!!
That, my friends, was 2018, in all its mortifying, capricious, senseless absurdity. I can think of no better soundtrack.
30. "Lonesome L.A. Cowboy," Mapache
Take one '70s country-rock deep cut about down-and-out country singers "smokin' dope (and) snortin' coke" among the L.A. scenesters, arrange it like a great lost Louvin Brothers song, and name your resulting duo after the Spanish word for racoon. What's that? Somebody already did these things? Never mind, you're off the hook.
29. "Sisters," Natalie Prass
With apologies to Kesha and Ariana Grande, nobody had a better female-empowerment anthem for 2018 than Richmond, Virginia's Natalie Prass, who returned with a sophomore effort led by this single—which alternates between subdued cool supported by jazzy piano stings and full-on funk fist-pumping.
28. "Get Out," Chvrches
And get your Scottish synthpop fix while you're at it!
27. "Coolin' Out," Nathaniel Rateliff & The Night Sweats (feat. Lucius)
I wish Lucius was doing more than the occasional "shoo doo da doop" way deep in the mix, but whatever. I can't say no to a bass-driven groove and a buncha beefy sax. And Denver singer-songwriter Rateliff clearly knows how to create a fun little slice of vintage soul.
26. "All Time What," They Might Be Giants
Twenty albums in, the Johns can still create a mighty fine pop-rock song filled with moments of absurdity, irony, and linguistic playfulness, e.g. "completely-er."
25. "Not For Me," Forth Wanderers
The New York indie rockers are all about contrasts, and not just the classic Pixies loud-soft-loud contrast—although they pull that off well. There are most subtle mixtures at play here, like the hints of layered vocal harmonies programmed against all that distortion, or the way the song sweeps its way into soaring, syncopated guitar descants just as you're coming to terms with the idea that it's all built on simple assaults of eighth notes.
24. "Everybody's Coming To My House," David Byrne
This is the first of a few songs that got a boost from my 5-year-old daughter, who I think just liked the idea of a playdate where no one every leaves. Well, that and some Eno-riffic rhythmic textures.
23. "Gelatin Mode," Post Animal
Oh man, this song (and video!) are far-out bonkers. It explodes out of the gate until it suddenly melts into a psychedelic haze. It's heavy and cheesy—just like a Chicago-style deep dish pizza.
22. "Make Me Feel," Janelle Monáe
The sting of facing a world without Prince is somewhat alleviated by the knowledge that we have Janelle Monae around to carry on in the name of all things smart, sexy, and funky. As a matter of fact, His Purpleness contributed to this track, among others on Dirty Computer, prior to his death.
21. "Closer (Ode 2 U)," Ravyn Lenae
Speaking of smart, sexy, and funky … daaaaaang. The Chicago R&B songstress smolders on this one.
20. "Bad Bad News," Leon Bridges
Speaking of smoldering R&B, here is Fort Worth's smoothest cat laying down a plaintive plea to let those born at the back of the line have a chance up closer to the front.
19. "Scorpio Rising," Soccer Mommy
This is the kind of relentlessly sad indie-rock balladry that would come spilling out of the cassette deck of my mom's Saturn SL2 late at night circa 1995 while parked in an empty parking lot in the middle of a pouring rainstorm, and the fact that it's back and cool again is great fucking news. Thanks, Sophie.
18. "Miami," Kali Uchis (feat. BIA)
Have I used the phrase "smoldering R&B' anywhere on this list yet? At any rate, this is the best song titled "Miami" that's ever been recorded. YOU HEARD ME, WILL SMITH!
17. "Bubblin," Anderson .Paak
True story: I have a 4-month-old at home, and literally every time drool starts burbling out of his mouth, I announce, "OK you bubblin'!" in a spot-on Anderson .Paak impression—and he just doesn't appreciate it.
16. "Modeh Ani," Nefesh Mountain
And now for something completely-er different. Namely, Jewish bluegrass (or Jewgrass, if you will). This got an even bigger boost from my daughter, who apparently loves Jewgrass even more than she loves Eno-riffic rhythmic textures. But it's super good, right?
15. "Fire Drills," Dessa
In which the Twin Cities' greatest living poet/MC/chanteuse laments what it's like to travel alone as a woman, expected to constantly watch one's back. Allow me to share some truly powerful lines, during which the intensity of the music simultaneously kicks into high gear:
We don't say, "Go out and be brave"
No, we say, "Be careful, stay safe"
In any given instance, that don't hurt, but it sinks in, like stilettos in soft earth
Like, the big win is not a day without an incident
I beg to differ with it
I think a woman's worth—I think that she deserves—a better line of work
Than motherfucking vigilance
That is powerful stuff. That is fire.
14. "Nobody," Mitski
Man oh man, this is a heartbreaking song about soul-crushing loneliness. But you might miss that on account of the infectious disco beat. Somehow it works. Don't ask me how.
13. "The Louder I Call, the Faster It Runs," Wye Oak
Reflections on listening to this song the first time:
0:35 – Alright, they've been listening to the Stranger Things soundtrack
1:34 – Oh, hey, there's a guitar
1:50 – I think that's a guitar
3:10 – YEEEEEAAAAAHHHHHH!
My biggest musical disappointment this year was having to give up my tickets to the Baltimore duo's show at the Starline Social Club so I could hear this live.
12. "Seven Falls," Laura Veirs
Does anybody do spacey alt-country as well as Portland's Viers? Does anybody else do spacey alt-country nowadays? I'm sure they do, but it's probably not this enchanting.
11. "Wild Wild Wild," Robbie Fulks & Linda Gail Lewis
The title track from the album that pairs Chicago's best country songwriter (and Grammy nominee!) with a Louisiana rockabilly legend (and Jerry Lee's sister!). The song is … aptly named.
10. "Eureka," The Hold Steady
Craig Finn et al. spent 2018 quietly putting out new material on Bandcamp (so far there are four singles each bundled with a B side). They're all top-of-the-line, but this is the best of the bunch. A girl takes up an offer to get her out of her Central Valley hometown, only to find herself stuck in the Redwood Empire with a shiftless ne'er-do-well and his scary friends, sleeping "five in one room (and) four in one bed." Nobody spins a tale of messed up kids in trouble like Finn.
9. "Waiting For You," Hurry
"Where are today's Gin Blossoms devotees?" you ask. Well, here is all the '90s jangle-pop and flange you can handle, but employed in service of the oh-so-2018 observation that we all are spending too much time bumming around at home, alone, and "always looking at your phone."
8. "Pink Lemonade," James Bay
I haven't exactly followed the English pop charts closely for the last couple years, so I had no idea that I should be shocked that Mr. Bay traded his "I'm a sensitive, folksy bluesman with a roster of professional songwriters" hat for a sparkly glam-rock sweater. But, hey, that's what happens when you mix ethereal, heavily chorused synths with the crunchiest guitar tone this side of "Talking in Your Sleep."
7. "Shoot You Up," Ty Segall
On the less sparkly, more fuzzy 'n' dirty side of the glam continuum, we have insanely prolific, kinda weirdo California garage rocker Ty Segall. Getting shot never sounded so cool.
6. "Everything Is Awful," The Decemberists
There's an argument to be made that this song is just too on-the-nose for our times, but then I think of the line about "the sound of all things good breaking." And then I think of that preposterous back-up singer arrangement. And then I think of myself flat on my ass with my lunch flying through the pouring rain. And I'm like: "Yeah. Sorry, 2018. This is your anthem."
5. "Me and Michael," MGMT
So many bands have done the '80s revival thing at this point, but most are aiming for the obvious touchstones. Your Depeche Mode and Erasure, or maybe Michael Jackson. MGMT, which has never been a band for taking the easy or expected or non-nihilist route, seems to be going for a (maybe earnest?) amalgamation of 1985-87 one-hit-wonders like Level 42, Icehouse and Paul Carrack. I am here for it.
4. "Wide Awake," Parquet Courts
"Parquet Courts made THIS?????" And here I am paraphrasing a former editor of mine's reaction, on Facebook, to me sharing this song when prompted about what we were all listening to on a particular Sunday morning. And, yup, the post-punk combo made a 2.5-minute bauble about being woke, full of polyrhythm, afro-pop guitars, and samba whistles.
3. "Never Look Back," Field Report
And this year's Tom Petty Memorial Torchbearer Award goes to … the envelope, please … Wisconsin folk-rock band Field Report! Congratulations on a fine effort at capturing Into the Great Wide Open-era, Jeff Lynne-style production in a tightly constructed pop song with an instantly memorable hook.
2. "Oyahytt," The Coup (feat. LaKeith Stanfield)
If you don't love Oakland already—and, if you don't mind me asking, what the hell is wrong with you?—just spend an afternoon biking around with this song on repeat, and finish it up by watching Sorry to Bother You. Boots Riley made a fantasmagoric meditation on race, labor, and tech, and this theme song captures the weird, wild energy of the film and The Town perfectly. My only complaint with the song is I want, like, at least two more Boots verses.
1. "Mr. Tillman," Father John Misty
For the longest time, I just could not get over Josh Tillman's misanthropic alter-ego. Then some random stranger on the internet advised me to think of Father John Misty's previous album, Pure Comedy, as Madman Across the Water but with more commentary about social media. Suddenly it all made sense. So when God's Favorite Customer came out this year, I was primed for it. And did it deliver. Not just this song, though I listened to it more than any other track.
My five favorite things about "Mr. Tillman," a self-deprecating vignette about self-destruction, in no particular order, are as follows:
The chord progression
The nightmare of a music video
That the line about Jason Isbell is based on a true story
Whistle solo!