PHOTOS: 11th Annual Murder Ballad Bash @ The Starry Plough, Berkeley, Calif., 10.26.12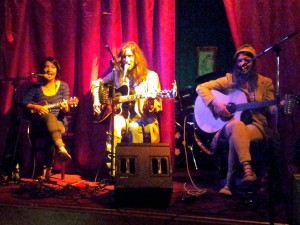 I'm not sure from whence my fascination with murder ballads came. Maybe it simply grew out of my general interest in folk music, since murder ballads play such a pivotal role in British and American folk music. Or maybe it was the huge poster promoting Nick Cave & The Bad Seeds' Murder Ballads album that hung in the window of the  record store in my hometown from the day it opened until the day it closed. Or maybe I'm just a morbid fella. At any rate, by the time I was in college, I was making mix tapes of murder ballads and explaining to my roommates that they didn't need to be frightened. I even tried my hand at writing a few murder ballads in my 20s and talked my band into performing them.
It's reassuring to know I'm not the only person out there fascinated by this bloody musical tradition. For 11 years, a group of musicians has been putting together a show in the East Bay with only one rule: All the songs have to be about death. It sounded like a perfectly dark, gruesome way to spend the Friday before Halloween, so my wife and I headed to The Starry Plough in Bekeley. (Spending an evening listening to musicians sing about people killing each other was actually her idea, which is just one more reason that I love her.)
Before the show started, I tried to predict which classic murder ballads might get played. I don't think we heard a single one, which just goes to show the wide variety of murder ballads from which the acts could choose. The evening began with musical satirist Tom Lehrer's take on the genre, "The Irish Ballad," and continued to include everything from The Beatles' "Maxwell's Silver Hammer" to the traditional "Ballad of Frankie Silver" to Echo and the Bunnymen's "The Killing Moon" to what I'm pretty sure were several original tunes.
There was plenty of talent on display, but two acts stuck with me enough for me to make an effort to look them up once I got home. The opening act of the night, The 3 Soulbirds, featured three young ladies (I've reached the age where anyone younger than me is "young") making gorgeous three-part harmonies, with a swingy, folky, ukulele-utilizing style that was one part The Andrews Sisters and one part The Ditty Bops. The other was the last act we saw before ducking out, Maurice Tan of San Francisco alt-country band 77 El Deora, which bills itself as "hillbilly noir." Tani not only has one of those timeless, instantly riveting voices, he writes timeless, instantly riveting songs to go with it.
Either band is definitely worth catching live. Tani's band is playing Nov. 30 at the Lucky Horseshoe in San Francisco.
Here is photographic evidence of the evening:
Or in gallery form, if you prefer: