PHOTOS: A-Town Festival at Verdi Club in San Francisco, 04.29.12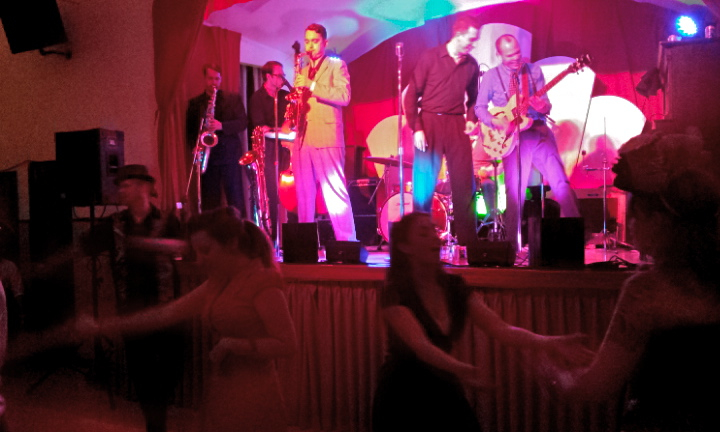 Golly. I haven't seen so many flying skirts since the aviatrix convention! *rim shot* Hey-o! But seriously, folks, this Sunday event was more than a 12-hour music festival, it was one heckuva swinging dance party. The Verdi Club's dance floor, though sizable, was mostly packed with couples in knee-length vintage dresses or embroidered shirts flinging each other around. When I applauded between songs, I felt like I was clapping for the dancers at least as much as for the bands. You should have seen all the hot tamales.
Literally. There were literally a bunch of tamales available for $3 each or $6 with beans and rice.
This was the inaugural A-Town Festival, an event organized by A-Town Booking Agency & Events of Alameda, which specializes in swinging retro roots music and has a weekly Tuesday Night Jump! dance party at the Verdi Club. The music at Sunday's shindig—which also served as A-Town honcho Tanoa Stewart's birthday celebration, complete with a girl jumping out of cake—was right in line with the agency's roster: western swing, jump blues and honky-tonk, with choruses that involved shouting things like, "BLACK CAT BOOGIE!" and "Diddly diddly diddly BOP!" There was a whole corner devoted to storing pedal-steel guitars and stand-up basses.
I managed to catch four bands, including San Francisco's The B Stars, which was my inspiration for attending. I interviewed Greg Yanito of the country combo almost exactly a year ago and have continued to enjoy its 2010 album, Behind the Barn with The B-Stars, but I'd never seen the group live. Sunday's gig was the band's first time playing with a full six-person lineup that includes steel guitar, electric guitar and fiddle. The band is also gearing up for a record release party from 6 to 9 p.m. May 12 at Amnesia, 853 Valencia St., San Francisco, with Jenny Lynn & Her Real Gone Daddies.
In addition, I saw Reno band Golden West Trio (which actually had four people with the addition of Miss Kay Marie) along with local groups Slim Jenkins (featuring two saxophones!) and West Coast Ramblers. All were just as impressively, impossibly talented, tight and classy as the next.
Here is photographic evidence of the festivities:
Or in gallery form if you prefer: