The Annotated Decemberists No. 9: "July, July!"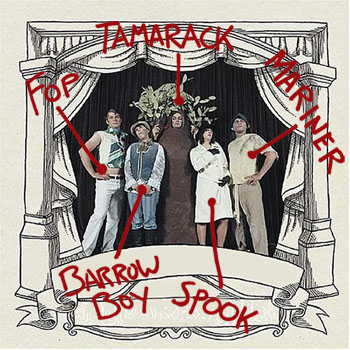 Perhaps no band's lyrics better lend themselves to pseudo-academic analysis than those of The Decemberists. The Annotated Decemberists is an attempt to puzzle through the Portland, Oregon, group's entire catalog song by song—examining all the obscure vocabulary, historical references and poetic subtext—or go crazy trying.
Though the source of this information is somewhat sketchy, there are a couple of websites that claim this song was inspired by a former slaughterhouse in Portland in which Decemberists singer-songwriter Colin Meloy squatted one summer. And I'm willing to give them the benefit of the doubt, because it makes as much sense as any other interpretation.
This is as good an example of classic Meloy lyrics as you're likely to find: A title that's somehow reminiscent of a 19th-century revolutionary rallying cry? Check. Random reference to an unusual ethnic subgroup? Check. Undergarments and ghosts? Check and check.
"July, July!"
from Castaways and Cutouts, 2002
There is a road that meets the road
That goes to my house
And how the green grows[1] there
And we've got special boots
To beat the path[2] to my house
And it's careful, and it's careful when I'm there
And I say your uncle was a crooked French Canadian
And he was gut-shot running gin[3]
And how his guts were all suspended in his fingers[4]
And how he held 'em
How he held 'em, held 'em in
And the water rolls down the drain[5]
The water rolls down the drain
O, what a lonely thing
In a lonely drain
July, July, July
It never seemed so strange
This is the story of the road that goes to my house
And what ghosts there do remain
And all the troughs that run the length and breadth of my house[6]
And the chickens how they rattle chicken chains[7]
And we'll remember this when we are old and ancient
Though the specifics might be vague
And I'll say your camisole[8] was a sprightly light magenta
When in fact it was a nappy[9] bluish grey
And the water rolls down the drain
The blood rolls down the drain[10]
O, what a lonely thing
In a blood red drain
July, July, July
It never seemed so strange
Exegesis Manifest
(↑ returns to text)