PHOTOS: Drive-By Truckers at The Fillmore in San Francisco, 03.16.12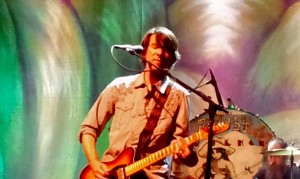 What the world needs more of:
Guitar solos
Pedal steel guitar solos
Angry sing-along choruses with lyrics like, "Hell no, I ain't happy!"
Bands that drink from Costco-sized bottles of hard liquor on stage
Yes, the world would be a better place if there was more of what I saw Friday night at San Francisco's venerable Fillmore concert hall. Or if not the world, at least the music industry.
Finally prodded into seeing the Alabama-bred, Georgia-based band by my friend and DBT superfan Kim, I experienced exactly the sort of quality, down-and-dirty, southern-rock shindig that the its hard-working reputation suggests. There weren't many surprises. Patterson Hood didn't think much of his home state's recent selection of Rick Santorum in its Republican primary, but then he also had some choice words for Mitt Romney—well, one choice word, in particular—before launching into the Alabama-pride anthem "The Southern Thing."
Such is the duality of the southern thing.
This was the band's first time in San Francisco since the departure of Shonna Tucker. The lanky, young gentleman filling in for her on bass, Matt Patton, acquitted himself admirably, playing those low riffs that drive so many of DBT's songs with a constant grin on his face and jutting his neck out with every note—like the world's happiest, funkiest chicken.
For a guy who owns five DBT albums, I was surprised how many songs they played that I didn't recognize. That thought crossed my mind at one point during the encore—which I'm pretty sure was longer than their actual set—only to realize that they were covering Bruce Springsteen's "State Trooper." There was also a cover of Warren Zevon's "Play it All Night Long," a song so appropriate its hard to believe it's not from Southern Rock Opera.
Here's how things looked from the right side of the stage—"Cooleyville," as another fan called it—in slideshow form:
Or in gallery form if you prefer: