Racking Up Plays: "Party Crashin'" by Blacktivity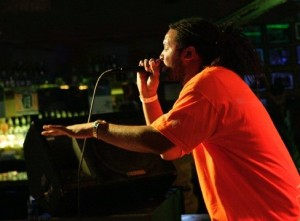 These are the posts where I gush about some song that I've got a huge crush on at the moment, and you put up with it and listen because you're a good friend.
"Party Crashin'," Blacktivity
For years now, I've been insisting that one of the best rap groups in the country hails from Port Huron, Michigan, and for years now, people have been responding, "Yeah, right." (Or, "Where?")  I worked for six years as an entertainment reporter in Port Huron and profiled hundreds of musicians, most of whom where imminently forgettable. A few acts stood out as genuinely talented, but hip-hop duo The Lyricists was one of the few that seemed like it could legitimately hold its own outside the small-town scene. I was surprised to learn that Port Huron even had a hip-hop group, much less one that took its cues from such thoughtful influences as A Tribe Called Quest and De La Soul, as opposed to Chingy and all the other soon-to-be-forgotten rappers on the radio at the time.
Blacktivity is a new project from The Lyricists' Illtone, who has teamed up with Pittsburgh producer Shade Cobain. Compared to The Lyricists, Blacktivity is a bit more profane, angry and, frankly, fun. On the track "Party Crashin'," it takes Illtone less than three minutes to establish one hell of an anti-hero. Over some banging, reckless beats, he describes the world's biggest asshole tearing a path of destruction through a party, ranging from the inconsiderate (failing to flush the toilet) to the felonious (stealing the host's DVDs). And the rhymes are hilarious.
Made way to the DJ, slapping drinks out of people's hands
I threw up in the punch bowl, that wasn't in my plans
What makes this all the more amusing is that I've seen Illtone at parties, and he's never been anything less than a perfect gentleman.
Blacktivity's entire debut, nine-track album is available as a free download here.
And here is the MC himself, discussing the track: