The Annotated Decemberists No. 5: "I Don't Mind"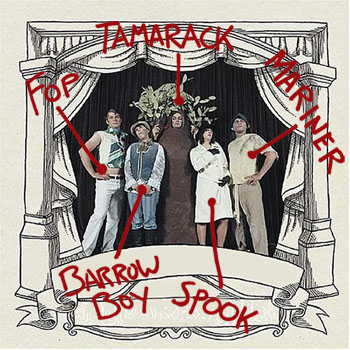 Perhaps no band's lyrics better lend themselves to pseudo-academic analysis than those of The Decemberists. The Annotated Decemberists is an attempt to puzzle through the Portland, Oregon, group's entire catalog song by song—examining all the obscure vocabulary, historical references and poetic subtext—or go crazy trying.
I love this song. I'm a sucker for the tragic drama of minor subdominant chords (at least I think that's what I'm talking about—the progression from E major to A minor), and it's all over this song. Yet I can't tell you what "I Don't Mind" is about. Not specifically. Each verse introduces a character, but in each case it's more about arresting imagery than a clear story line. But you know what? I don't mind.
"I Don't Mind"
from 5 Songs (2001, re-released 2003)
Truly, with his thorn in your side[1]
And you don't know why
Julie dips her toe in the tide
And she don't know why
No, she don't know why she got
All dolled up[2] for a suicide[3]
And when the stage lights dimmed on the fading scrim[4],
It was morning before the cheering died
Is it too late to tell you that I don't mind?
King George[5] in imperial robe
And a lazy eye
Knelt down as the semaphore[6] broke[7]
On his tawdry[8] bride
But we don't know why he got
All stressed out on the motherland[9]
With his TV sets and his fighter jets
And the royal ubiquitous[10] handycam[11]
Is it too late to tell you that I don't mind?
Here's you with your mom on your back
Going into the woods[12]
She's so proud that you're staying on track
Like a good son should
But you don't know why you got
All choked up when you said goodbye
And you can hear her still when the nights are still[13]
All crying out for calamine[14]
Is it too late to tell you that I don't mind?
Exegesis Manifest
(↑ returns to text)