Report From the Show: McCabe & Mrs. Miller perform Bruce Springsteen's "Nebraska," suggest album as a soundtrack for Occupy Wall Street, at Make-Out Room in San Francisco
Why oh why aren't there more opportunities to hear classic albums performed in their entirety? I'm one of those equal-opportunity music fans who thinks the best (and I mean the best of the best) pop-music compositions have just as much enrichment to offer as classical masterworks, and they deserve recognition. So why aren't there ensembles doing recitals of Pet Sounds the same way that orchestras present Beethoven symphonies? OK, so Brian Wilson did just that back in the early 2000s, but what about groups other than the original artist? I mean, classical fans didn't have to wait for Stravinsky to go on tour to hear The Rite of Spring, right?
All of which is just my way of saying that there ought to be more shows like the one Friday night at the Make-Out Room in San Francisco. Victor Krummenacher and Alison Faith Levy of local band McCabe & Mrs. Miller presented their interpretation of Bruce Springsteen's Nebraska, from  the title track through "Reason to Believe." The pair had done this once before, back in July at Pegasus Books in Berkeley, at the behest of Joe Christiano of First Person Singular, which has been breathing new life into the concept of literary readings. First Person Singular's events emphasize dramatic interpretations of voices that represent the American character, and not just in books. In introducing the performance on Friday, Christiano said that the character-driven stories on Springsteen's album belongs in the same league as The Grapes of Wrath. That's a bold statement, but it set the context for the evening and put the focus squarely on Springsteen's lyrics as a literary work, even as Krummenacher and Levy offered a reverent but boldly personal take on the material.
Krummenacher remarked that these songs—with their stark, unflinching glimpses into the lives of people passed over by the American Dream—were particularly relevant given the Occupy Wall Street movement, and he dedicated the performance to all the "young kids sleeping in the streets trying to teach us old folks what the fuck is going on."
He also said that the project had been one of the most challenging musical undertakings he'd attempted in a career full of them (which, it should be noted, includes some of the most adventurous, eclectic indie rock of the 1980s as a founding member of Camper Van Beethoven). It gave him a renewed appreciation for The Boss.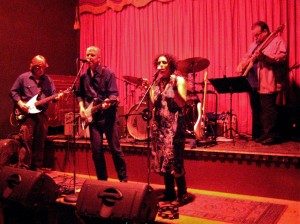 "It's not that the songs are musically difficult, but the cadence of the lyrics is … ," he said with a long pause, "intense."
Krummenacher's use of what I'm pretty sure was an electric baritone guitar added some menace to a few songs, but Levy's voice was the real revelation. Her strong, soulful style made Springsteen's music sound like gospel for the common man.
As much as my fiancee and I enjoyed the intimate Springsteen showcase, we were even more impressed once Krummenacher and Levy were joined by a full band for a regular McCabe & Mrs. Miller set of swampy Americana, southern rock, folk and blues. Personally, I was entranced with the accomplished bass work of Paul Olguin, who has played with everyone from Mary Wells to Mazzy Star in his 30-plus-year career. It made for one cathartic hootenanny following the harrowing trip through Nebraska.