Racking Up Plays: "The Lark" by Timothy Monger
These are the posts where I gush about some song that I've got a huge crush on at the moment, and you put up with it and listen because you're a good friend.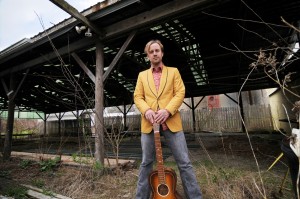 Before I get to this song, allow me to introduce all you West Coast types to the best band you've never heard of: Great Lakes Myth Society.
As if the name doesn't give it away, Great Lakes Myth Society was a Michigan band, through and through. Its lyrics, contributed by a trifecta of outstanding songwriters, used vivid imagery to reference Michigan geography, history and folklore. The band took the musical folk traditions of the Upper Midwest—think logging ballads and sea shanties—and married it to boisterous rock 'n' roll, with some '60s pop vocal harmonies thrown in for good measure. The group had built-in appeal for Michiganders like me, but that was hardly a prerequisite—same as you don't have to be from northern Alabama to appreciate Drive-By Truckers. Great Lakes Myth Society's self-titled debut was released on a Texas indie label, and it had a pocket of devoted fans in Japan. Alas, circumstances scattered the members throughout Michigan and even beyond its borders, and as I understand it, the band's activity is mostly limited to occasional reunion shows at this point.
Since then, Timothy Monger—one of those three outstanding songwriters and the band's resident accordion player—has been concentrating on solo material. In June he released a sophomore album titled The New Britton Sound, a reference to its having been recorded in the rural village of Britton, about halfway between Ann Arbor and Toledo, Ohio. And what does The New Britton Sound sound like? Well, there's a lot of banjo, which is a fantastic development as far as I'm concerned. On the album's opening track, "The Lark," there is also an undeniable Neutral Milk Hotel influence, with a trumpet line gliding over a throbbing wall of distorted bass. Through the noise, Monger's pop instincts and genial five-string picking remain ever-present. His lyrics are strong as ever, too, using evocative, dream-like language to describe the way old dirt roads can tug at the heart.
Monger has a way of letting his songs make their point and quickly disperse. I often find myself wishing "The Lark" stuck around just a bit longer. Don't be surprised if you need to listen to it two or three times in a row before you're ready to move on to another song.