Report From the Show (with photos): The Avett Brothers with Jessica Lea Mayfield at the Fox Theater in Oakland, 07.19.11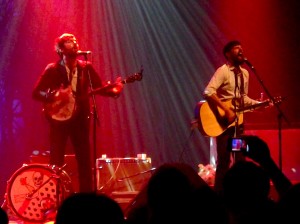 Last night's show at the Fox Theater was, I believe, the third time I have seen The Avett Brothers earnest mash-up of folk, pop and punk (courtesy of The Bay Bridged's weekly Ticket Giveaway Wednesday contest). The first time was in 2006 at a mid-size Detroit club on a rainy weeknight in November. About 20 people showed up. The other 19 crowded the stage and sang along to every song.
Now they're packing 2,000-seat venues back-to-back, and they've grown from an acoustic bluegrass trio to a five-piece rock 'n' roll band complete with a drummer.
The one thing that hasn't changed in that time is the North Carolina group's gracious gratitude to fans and its commitment to a memorable, energetic performance.
Highlights/observations:
My darling fiancee's reaction upon seeing opening act Jessica Lea Mayfield: "Is she trying to look like Liza Minnelli?" She quickly moved beyond Mayfield's looks and became an instant fan of the Ohio alt-country singer, insisting that we buy one of her CDs after she finished her set.
I almost made it through the show without complaining like a grumpy old man that I was surrounded by a bunch of newbies who knew every word to each song off of I and Love and You but had apparently never heard "Denouncing November Blue" before. Almost.
Also, apparently I was one of 12 people who knew "Will the Circle Be Unbroken?" which the band played, joined by Mayfield, as its final encore number, culminating in a not-entirely-successful a cappella singalong. The Carter Family? Nitty Gritty Dirt Band? No? Nothing? Come on, Bay Area! Learn your roots music!
Also covered: The brothers sang a lovely rendition of Paul Simon's "Slip Slidin' Away" with just the two of them around a single microphone. Later, Scott Avett and Mayfield did a charming version of the traditional Irish folk song "Seven Drunken Nights."
The young woman behind me when Seth Avett played the opening guitar riff for "Living of Love": "Well, I'll be in tears in approximately 10 seconds."
Seth Avett, coming out for the encore, teased the audience by offering to just keep playing until it was time for "tomorrow night's show."
The Avett Brothers are indeed doing a second show at 8 p.m. today at the Fox, 1807 Telegraph Ave., Oakland, and some balcony tickets are still available for $37.50 plus fees.
Meanwhile, here's photographic evidence of the evening:
Or in gallery format, if you prefer: