Report From the Show (with photos): Okkervil River, Titus Andronicus and Julianna Barwick at the Fox Theater in Oakland, 06.22.11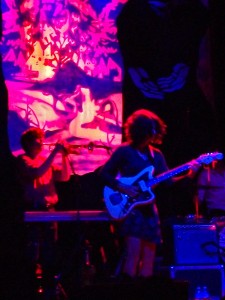 I can never quite figure out whether I love Okkervil River or just like Okkervil River. I always think the Austin, Texas, indie rock band's albums are great on first listen, but after a year or so, there are usually only three or so tracks that I ever feel like revisiting on a regular basis.
After the show Wednesday night at the Fox Theater in Oakland, I'm leaning a bit more to the love side of the equation. Will Sheff & Co. put on an energetic headlining show and did a great job of hitting each of those three tracks per album that I'm wild about. If only they'd played "Listening to Otis Redding at Home During Christmas," I might be entirely smitten.
Highlights/observations:
Opening act Julianna Barwick struck me as an odd choice. The New York sound collage artist created mesmerizing, etherial tapestries of looping melodies using just her voice and a collection of keys, pedals and knobs, but the effect of having the boozy, folk-influenced punk of Titus Andronicus follow her was a bit like Enya opening for The Pogues.
Titus Andronicus singer/songwriter (although, perhaps "yowler/songwriter" is a more apt description) Patrick Stickles referring to the Okkervil River diehards as River Rats. "I coined that yesterday," he said. "You can use that."
Like any good New Jerseyan, Stickles wanted updates on the score of the A's-Mets game, but he evidently didn't hear the guy shouting "2-2" from the mezzanine. "Anybody?" Stickles said. "I guess we'll worry about that later. Whatever. There aren't any jocks here."
Stickles evidently bought the guitar he was playing at a nearby pawn shop for $150 after he broke a string on his usual ax. (He didn't explain why a broken string required an entire new guitar.)
If you want to play in Okkervil River, it evidently helps if you can play guitar, keyboard, trumpet, trombone, fiddle AND jingle bells.
"Did you see me try to do the Tom Petty kick?" Sheff asked the crowd, explaining that there was a photo downstairs of the rock legend with his leg over his head. "He's like in his 60s or early 80s, … and I couldn't do that when I was 18."
And here is photographic evidence of the evening:
Or in gallery format if you prefer: