Going On Sale: Rihanna, Elvis Costello, Keith Urban and other major Bay Area concerts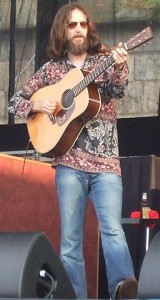 The busiest musician in California at the moment has to be Chris Robinson of The Black Crowes, who has launched a new, Golden State-based project named the Chris Robinson Brotherhood. The band has four San Francisco shows—none of them back-to-back, interestingly—going on sale this weekend. The ex-Mr. Kate Hudson will be barnstorming the state, playing 33 gigs in two months, clearly looking to shore up a West Coast fanbase.
The blogs that have reported this activity have almost uniformly presented the project as being shrouded in secrecy, because Robinson's website at first featured nothing more than a tour itinerary and a logo (a centaur!). Hey, here's a guess: It will be fronted by Chris Robinson and play southern-boogie blues-rock. What else would you like to know about it?
In other news: Fans of Grammy-approved R&B and soul will be interested in upcoming appearances by Rihanna and Adele; my fellow indie geeks will want to keep an eye out for shows by Phosphorescent and Gayngs; veteran hipsters can make plans to see Elvis Costello; bros who like their music fuckin' heavy can look forward to Rise Against, Bad Religion and Deftones; and the wait is over for country fans who have been waiting patiently for Keith Urban tickets.
Unless otherwise stated, tickets are available through Ticketmaster with all their awesome convenience charges and whatnot.
San Fran
East Bay
Elvis Costello and The Imposters, 8 p.m. May 8 and 9, Fox Theater, 1807 Telegraph Ave., Oakland. $49.50, $85. On sale Sunday, Feb. 13.
Bret Dennen with Dawes, 8 p.m. June 25, Fox Theater, 1807 Telegraph Ave., Oakland. $28. On sale Sunday, Feb. 13.
Rihanna, 7:30 p.m. June 30, Oracle Arena, 7000 Coliseum Way, Oakland. $29.30, $115.80 (includes fees). On sale Monday, Feb. 14.
South Bay
Keith Urban, 7:30 p.m. Oct. 1, HP Pavilion, 525 W. Santa Clara St., San Jose. $45.75, $91. On sale Saturday, Feb. 12.