Going On Sale: Janet Jackson, Of Montreal and other major Bay Area concerts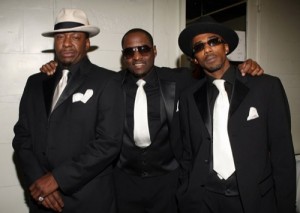 Consider this the first shot fired in my attempt to make this blog more than me just blabbing at you about whatever power-pop band I'm all about at the moment. Check it out, yo: Potentially useful information on tickets for concerts coming to San Francisco and Oakland, in a simple, easy-to-read format, posted just in time for you to check your bank account and realize you won't be able to scrape together the money before they go on sale in a few days!
We've got some big names this week, Janet "Miss Jackson If You're Nasty" Jackson being the biggest. I am, of course, most excited about Of Montreal coming to The Fillmore in May. But most of all I want to draw your attention to one that might otherwise slip by unnoticed: Heads of State. Who? Why it's only New Edition minus those who split off to form Bel Biv Devoe. Yes, that includes Mr. Too Hot to Handle, Too Cold to Hold himself, Bobby Brown. He and the other two will be at the Paramount in less than 40 days. And who's opening for them? Only Mint Condition. The school doesn't get any older than this, folks.
Unless otherwise stated, tickets are available through Ticketmaster with all their awesome convenience charges and whatnot.
San Fran

East Bay
Heads of State with Mint Condition, 8 p.m. Feb. 18, Paramount Theatre, 1025 Broadway, Oakland. $45.75-$79.75. On sale Saturday, Jan. 15.
Bright Eyes, 8 p.m. April 12, Fox Theater, 1807 Telegraph Ave., Oakland. $29.50. On sale, Sunday, Jan. 16.
Coheed and Cambria, 8 p.m. May 7, Fox Theater, 1807 Telegraph Ave., Oakland. $27. On sale Sunday, Jan. 16.