About Me
Me? You want to know about me? I can't help but be flattered.
That's me on my ass while researching a story on curling for the (Port Huron) Times Herald.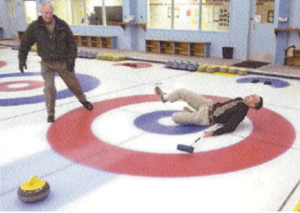 Let's see ... I am a fiercely proud native Michigander who relocated to California in 2010 (for love, if you must know). Prior to that--with the exception of four years spent studying at Northwestern University's Medill School of Journalism in Evanston, Illinois--I basically lived my entire life in the general vicinity of Metro Detroit.
While getting my bachelor's degree, I was a proud student of David Protess' Investigative Journalism class. I was part of a six-student team that investigated a double homicide in Lorain, Ohio, and discovered evidence that strongly suggested the innocence of one of the men convicted of the crime.
I managed to survive more than nine years as a professional reporter for a pair of dailies during what's recognized as a genuinely rotten decade for Michigan in general and newspapers in particular. Despite the harsh economic realities, working at the Times Herald in Port Huron and Jackson Citizen Patriot were overwhelmingly positive experiences that solidified my reporting, writing and editing skills. I wrote just about every type of story possible, including coverage of everything from fatal accidents to factory strikes, but I specialized in features--particularly arts and entertainment.
Here is just a sampling of some of the famous and semi-famous people I had the privilege of interviewing:
That's me and Gretchen Wilson backstage at Sarnia Bayfest while covering the festival for the (Port Huron) Times Herald.





Humorist Dave Barry (who was at least partially responsible for inspiring me to go into this journalism business in the first place)
Actors Jeff Daniels ("Dumb and Dumber," "The Squid and the Whale"), Jane Seymour ("Dr. Quinn, Medicine Woman"), Shirley Jones ("The Music Man"), John de Lancie ("Star Trek: The Next Generation"), Chris Burke ("Life Goes On"), Roger Bart (Broadway's "Young Frankenstein"), Raven-Symone ("That's So Raven"), Reginald Ballard ("Martin") and Yvette Freeman ("E.R.")
Professional wrestler and actor "Rowdy" Roddy Piper.
"Last Comic Standing" winners Josh Blue and Felipe Esparza
Rock musicians Kenny Loggins, Kevin Barnes of Of Montreal, Robert DeLeo of Stone Temple Pilots, Mike Love of The Beach Boys and Sam Roberts, as well as members of Creed, Styx, Great White, Saving Abel, The Proclaimers, Local H, Sponge and Sloan.
Country singers Trace Adkins, Gretchen Wilson, Naomi Judd, Bryan White, Jimmy Wayne, Josh Gracin, Jake Owen, Eddie Montgomery of Montgomery Gentry, Phillip Sweet of Little Big Town and Richard Sterban of The Oak Ridge Boys.
Folk singers Tom Paxton, Lori McKenna and Tom Chapin (who is also my ninth cousin, twice removed)
Pop singer Ciara
Darren Lynn Bousman, director of parts II through IV of the "Saw" series
Political pundit and cause célèbre of NPR haters everywhere Juan Williams
Artist Tyree Guyton, founder of the Heidelberg Project in Detroit
Author Jewel Parker Rhodes
Sister Nancy Murray, a nun who also happens to be Billy Murray's sister
Beyond journalism and writing, my interests include sailboat racing and music making, the latter of which you can learn more about by visiting this page.